Nowadays, everyone is carrying mobile devices in their pocket. And besides making calls, these devices are used to serve almost every purpose we can imagine by running a host of mobile apps. Many businesses have started abandoning physical advertising, which involves billboards and printed advertisements, and shifted to developing a mobile app.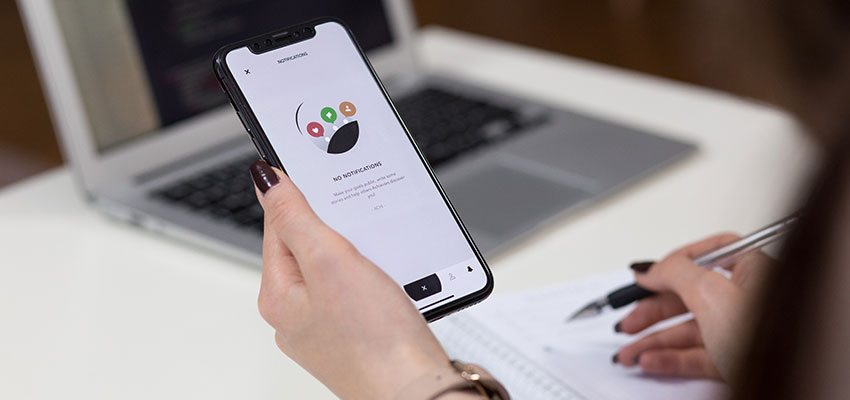 Some business owners might think that their business doesn't need an app, but let's take a look at some stats:

The average American adult spent nearly 4 hours a day on a mobile device.
Mobile app users in the US have over 100 apps installed on their smartphones.
By 2022, the annual mobile app downloads are projected to reach nearly $260 billion and the app store consumer spending is expected to increase by more than 90% to $157 billion on a global level.
If you want to set yourself apart from the competition and be ready for the future, developing a mobile app is exactly what you need.

Still not sold on the idea about building an app? Here are 4 ways an app can help your business grow.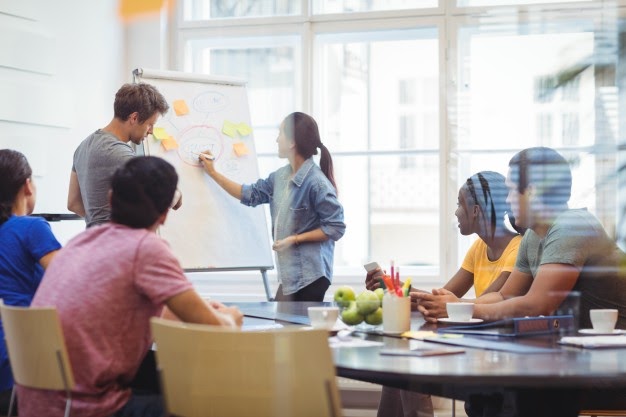 1. Better Customer Service
Communicating with customers is no longer about meeting with them in person in your physical store. Considering the fact that more than 2.5 billion people worldwide own smartphones developing a mobile app can make a huge difference when it comes to customer service.

An app allows you to be with your customers at all times. So, when they need your products, they'll be able to buy them right away, without having to wait for your employees to wake up and open the store. So, if your goal is to improve customer satisfaction, developing a mobile app is a way to go. 
2. Build Trust
Having an app enables you to establish consistent communication with your customers which, in turn, helps you raise brand awareness and build trust. In fact, according to the Institute of Customer Service, a 10% increase in a company's customer satisfaction score leads to a 12% increase in trust from customers.

If your target audience perceives you as a trustworthy brand, they'll be more likely to pay attention to your offering. With a mobile app, you'll be able to demonstrate (rather than simply tell) what your business stands for and why people should trust you.
3. Provide More Value to Your Customers
If you want to increase your customers' interaction with your brand (and, of course, encourage people to buy your products or services), you need to provide a level of value that your customers can't find in any of your competitors.

One of the best ways to do this is by creating a loyalty program within your mobile app. For instance, people can collect points every time they interact with your brand or products and they can later use the points to get discounts on your other products.

If you already have a loyalty program in place, all you need to do is incorporate it into your app by digitizing the entire process. Once your customers see their points adding, they will be more inclined to follow up on their future purchases.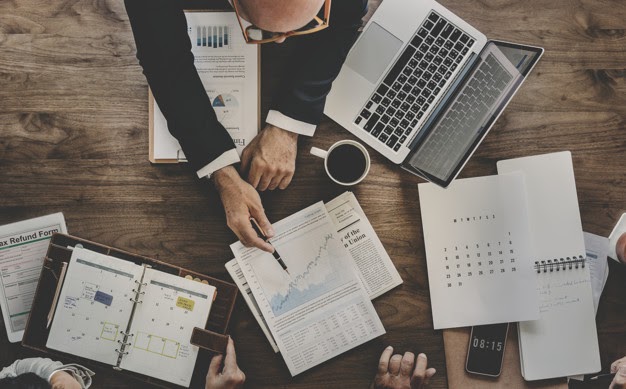 4. Increase Profits by Developing a Mobile App
As a rule of thumb, as customer satisfaction increases, sales increase as well. According to McKinsey, satisfied customers are more likely to add services or upgrade and are less likely to cancel.

Now, some of you might think that having a responsive website will eliminate the necessity of having an app, but this is not true. Launching an app in addition to your site will help you improve the overall customer experience and, as a result, boost sales. In fact, outstanding customer experience is a major competitive advantage that drives new sales and this year, it is predicted to overtake product and price as the primary brand differentiator.

For instance, when Domino's Pizza launched an app for ordering delivery, its sales increased by nearly 30% in 6 months in Britain alone. At the moment, mobile devices account for more than 50% of the company's online orders.

So, an app will allow you to make it easier for people to press the 'buy' button thus encouraging more purchases.

Other Benefits of Developing a Mobile App
If these four benefits aren't enough to convince you to build an app for your business, there are more reasons to take into consideration:

Reach out to younger demographics
Stand apart from the competitors
Inform users of new offers and products
Sync users' social media accounts and email
In addition, developing a mobile app can provide you with detailed analytics on how customers interact with your business. This data can include information on how much time users spend on your mobile app or how much you earn from every purchase. You can also get location data which will let you know where people have been most interested in buying your products.

Don't Forget About Hosting
When it comes to building an app, there is another important aspect to take into consideration – app hosting. You can choose from several options like:

Using a programming language to develop the backend for your app, like Kotlin for native Android development and Swift for native iOS development;
Hosting the backend for your app with ready-made tools such as Google App Engine flexible environment which uses docker hosting;
MBaaS providers, which rely on the Cloud computing model, where you use their service while they take care of your mobile app backend. When it comes to MBaaS providers, you have a number of choices including Google Firebase and AWS amplify.
Final Thoughts
90% of companies plan to increase their investment in apps in 2020. If you're not one of them, you will most likely fall behind your competitors.

While it is true that a mobile app is not a magic wand that will make everything in your business work perfectly, it will definitely help you build a strong online presence and position your brand at the forefront of your industry.

Follow us: