Whether you are just starting with your content marketing campaign or using the same strategy for a while, it doesn't hurt to revisit your content marketing strategy and make sure that it is updated and engages your prospective customers.
Before getting into the details of why and how you need to expand your content marketing strategy, let's first understand what content marketing is and why marketers need a robust plan to boost their content marketing Return on Investment (ROI).
A content marketing strategy is nothing but a way to strategize your goals and achieve them with the help of valuable content. It is a reliable and cost-effective way of driving traffic to your website.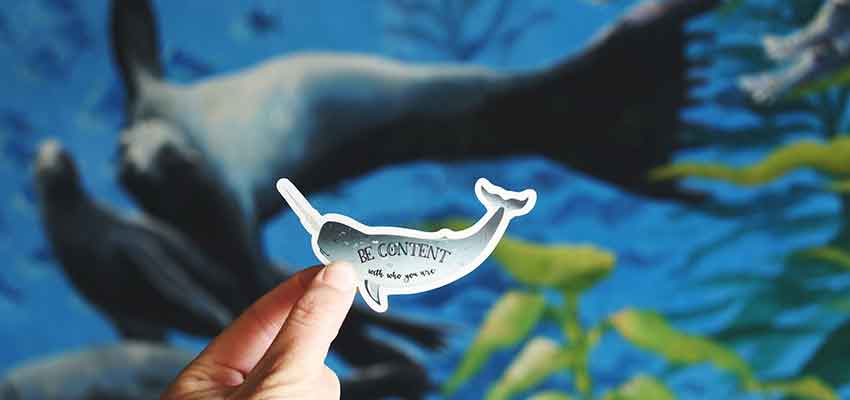 Once you have a reliable source of traffic from your website, you will be able to focus on your other marketing efforts that include, but not limited to social media advertising, distributed content, and sponsored content. Further, your content marketing efforts will not just help you driving traffic but also create awareness about what your brand stands for.
Top 5 Tactics to Expand Your Content Marketing Strategy in 2021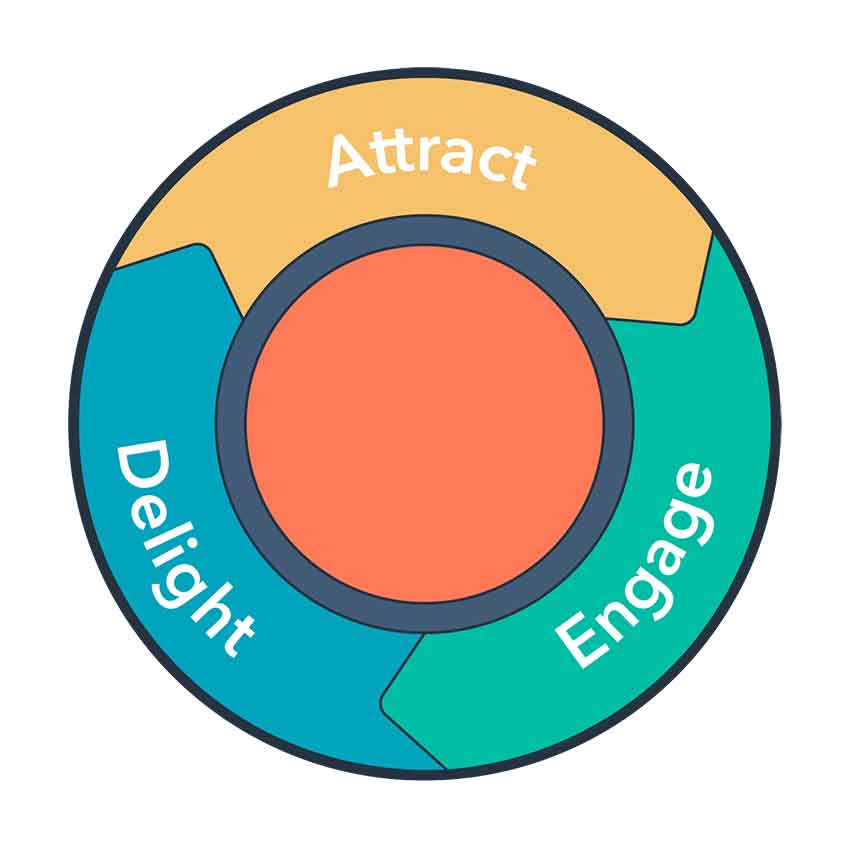 According to the Content Marketing Institute, 63% of businesses do not have a well-defined and documented content marketing strategy in place. 
Typically, a well-defined content strategy, "is often the foundation of your attract and delight stages in a buyers' journey." Creating content that your audience will love and the consistency with which you create your content are two of the primary factors to boost your content marketing ROI. 
In the process of developing a robust content marketing strategy, there are a few things that you will need to consider. Let's take a look: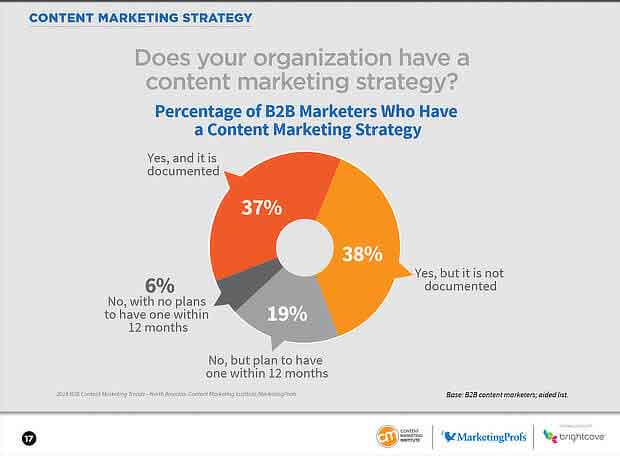 1. Set your goals 
Without a proper strategy in place, chances are all your efforts will go to waste. 64% are in agreement that the greatest educational need for any content marketer is to build a solid content marketing strategy.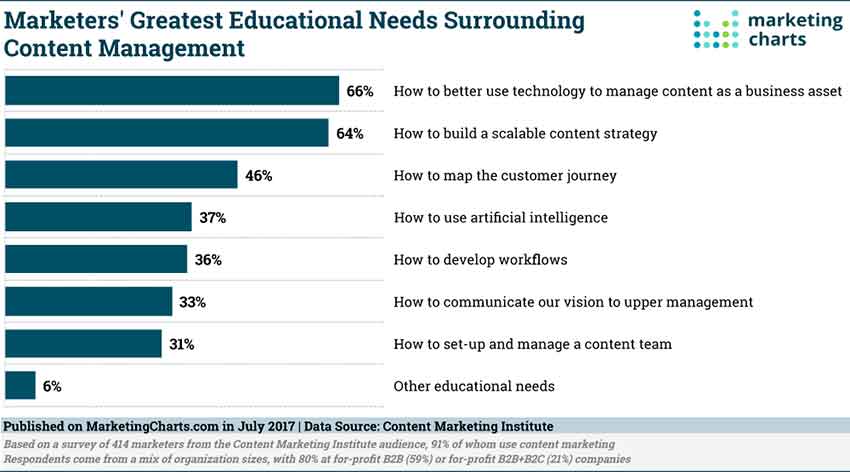 Decide on your content marketing mission statement
A good starting point is absolutely necessary. And for that, you should start with a content marketing mission statement, which will outline the following:
Target audience
Type of content you will use to reach them
The benefit you can get from that content
Set your Key Performance Indicators (KPIs)
To measure your content marketing goals you need to create strong KPIs, without which your campaign could fall flat. The KPIs usually have numbers attached to them, for example:
Hitting a certain target every month or quarter
Getting more newsletter signups
Performing an x number of eCommerce transactions
Improving the ranking of some of your primary pages
2. Know your target audience 
To be successful with your content marketing strategy, you need to understand who is your target audience and what do they need. This will help you in creating a strategy that is aligned with their requirements.
Collect demographics on your visitors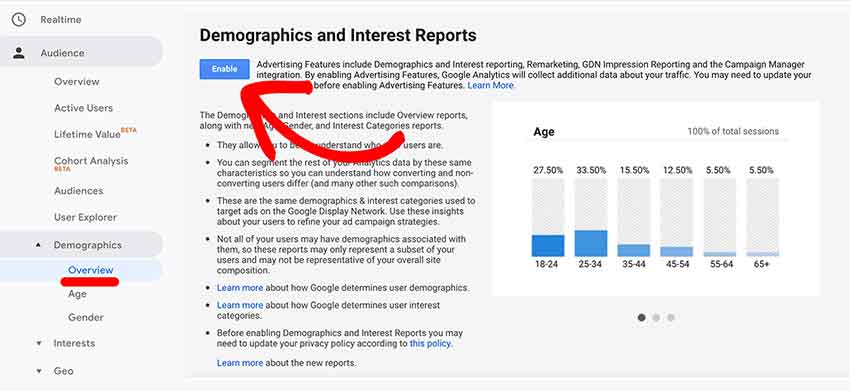 The first step to know your audience is to collect the demographic data – gender, age, income, and education. If you would like to get an in-depth insight into their likes and interests, you can find this information in Google Analytics.
Collect feedback from your current customers
Another key to launching a successful content marketing strategy is to collect feedback from your existing customers. A few questions you can consider asking:
Do they have any feedback on the content that you are producing currently?
What are their most urgent needs?
Do they feel their needs are being addressed in the content?
What are some of the growth areas they would like to suggest?
Now that you have the demographic data and recent customer feedback, it will be simple for you to create buyer personas. Buyer personas are nothing but ideal customer profiles that help you in targeting your content better.
3. Figure out the best content marketing channels 
As you navigate through the process you will understand where your target users hang out – what is their most preferred social media location. It is best to focus from there and move forward. Once you have decided on the channel where you want to publish your content, it is time to focus on the content you want to create.
Decide on the types of content you want to create
Typically, there are some types of content that are included in almost every content marketing strategy, for example, blogs.
Then there is interactive marketing. It usually involves using content where audience engagement is crucial. The benefit of using interactive content is that it helps in getting access to better data to optimize your buyers' persona as well as sales funnel. It creates awareness at the top of the funnel and helps target users to determine what other products or services do they need to meet their requirements. Other forms of interactive marketing content include polls, surveys, webinars, mobile apps or games, interactive eBooks, and more.
Another form of content is audio content. If you use a lot of audio content in your campaigns to reach a wider audience, such as research interviews, videos, and podcasts, then you may choose to transcribe audio to text using HappyScribe's audio to text converter.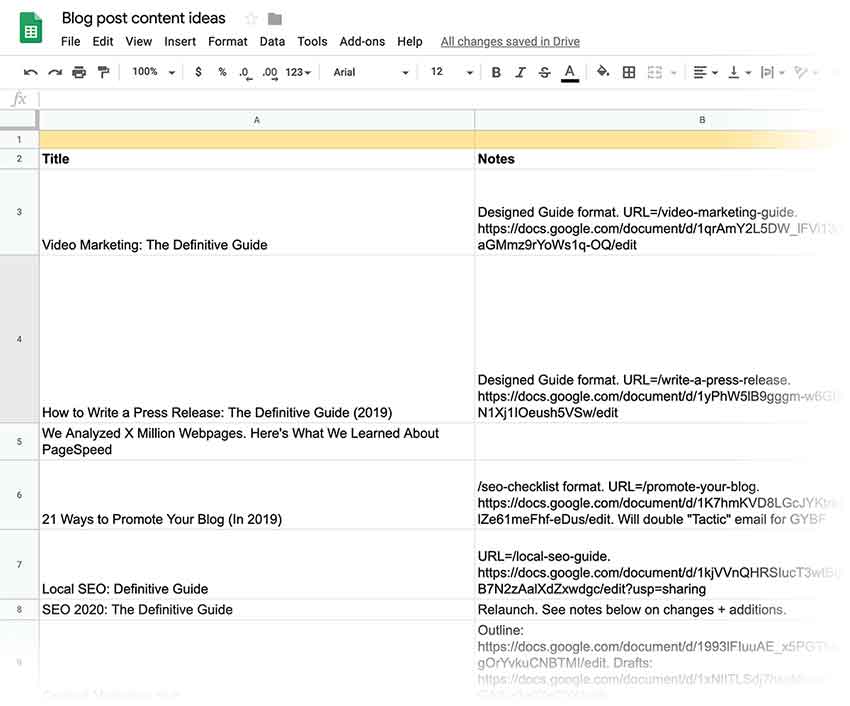 4. Identify and allocate resources 
Now you know what kind of content you want to create and who it is for or how do you plan to share it, let's get down to some action:
Set up a content calendar – Also referred to as an editorial calendar, it is a written schedule of where and how do you plan to publish your content. 
Create content – There is a lot of prep work involved before you actually create the content. Here is where you will find the content calendar quite handy. You can pick up a title from the list and start working on it. While writing on a topic, you will need to figure what's already out there on the net and what can you add to provide value for your target audience. You will also need to think about how your brand personality can be integrated into your content. 
Publish and manage your content 
The next step is how you will organize your content. A social media calendar will help you organize and publish a diverse library of content on your website. Many of the topics that you consider for your website or blog will be evergreen and some could be timely. It is important to understand that timely content is important to get the sudden spike in your traffic while evergreen content consistently performs well.
Distribute and market content – You will not get the desired results unless you do this part correctly. Create a schedule for sharing your content on social media and use email marketing to distribute the content among the users. In case you have mentioned any influencers in your content, feel free to reach out to them to spread the word.
5. Measure the results 
The last step and most important step is measuring the results. Before revisiting or updating your content marketing strategy you should know how your current content is performing. What is the Return on Investment (ROI) on your content marketing efforts? If you use the correct metrics, you should be able to identify the poorly-created content and improve on it.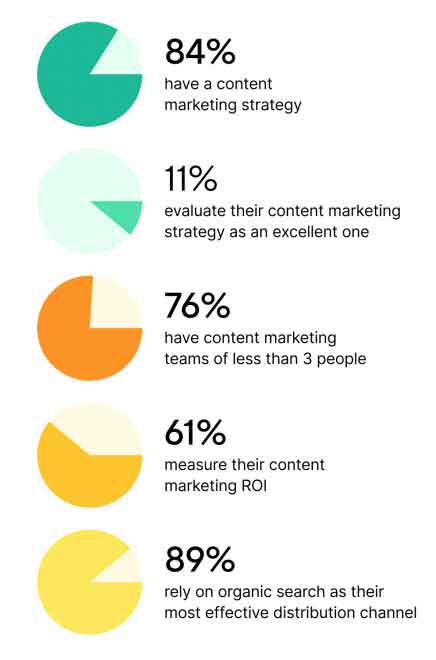 Before you do any of these- set your goals and measure your KPIs, understand the why behind them. Once you have identified the different categories for the success metrics and what role they play in the overall strategy, it will be easier for you to implement them and track the results.
Let's have a look at a few of these success metrics:
Traffic – As traffic is the lifeline of digital content, it doesn't really matter how good your content is if there is no footfall on your website. You can split the traffic into varied categories, such as users, page views, and unique page views. 
Conversions – Now people are landing on your website, reading your blog posts, but what are the next actions? Are they signing up for the newsletter, clicking on the referral links, or making a purchase? Again it depends on you to decide what is the goal of your content – whether you need a physical sale or you would like to raise awareness about your brand. 
Engagement – At times engagement how effectively people are connecting with your content. Another way of measuring this metric is also to figure out how well your content performs on social media. 
SEO performance – Not every measurement is related to social media. You get traffic from search as well. It is important for you the measure SEO and one of the most important metrics here is SERP ranking, which implies the position of your page in the search engine based on a particular search term. 
Authority – High authority not only means you get good quality of traffic but also increases the popularity of your brand. Moz has its own authority metrics that you can use to improve the authority for your site. 
To sum up
There is no single tactic or strategy that will help you with driving the ROI for your content.
Instead, you will need to consider each piece of your content marketing as a combined effort to get a holistic view. Zoom out from time to time and check which piece of the campaign is not performing up to your expectations and then refocus on that part to drive the ROI.
In the Comments section below, let us know what are some of the tactics you used to drive your content marketing ROI.
About the author:
Atreyee Chowdhury works full-time as a Learning Experience Designer and is passionate about writing. She has helped many small and medium-scale businesses achieve their content marketing goals with her carefully crafted content that is both informative and engaging. She lives in Bangalore, India with her husband. She loves to read, experiment with different cuisines, travel, and explore the latest content marketing and L&D trends in her free time. You can reach her on Linkedin.
Follow us: