Reputation management gives you a clear understanding of where your business is, what your customers think about you, what they feel when they hear your brand's name, current trends going on globally, and what experience individuals have with your brand.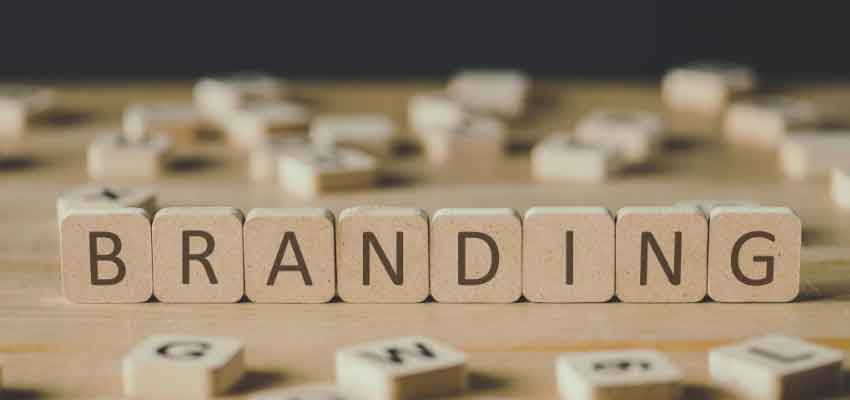 This knowledge is vital to figure out the improvements you need to prioritize, strengthen your brand, and boost the experience of your customers. You can keep your customers safe by using customer support software.
Did you know that people spend about 23 hours a week emailing, browsing sites, scrolling social media, and talking about a brand?
This comes up to a whole day in a week that your audience spends interacting with you, making brand reputation an essential part of brand growth. You can use buffer alternatives to create proper brand awareness on social media about your brand.
Brand reputation management is brand stewardship taken one step ahead. This refers to making sure that the consumers perceive your brand the way you want them to and maintaining a strategic way to protect it.
Focusing on what people say about your brand through reviews and other types of user-generated content is important to help build a positive reputation and influence shoppers to finalize their decisions faster.
Let's see how you can not only manage brand awareness but also the positive image constant.
What is online reputation management?
Just like its name, brand reputation management is the practice of influencing your consumers to hold a positive and robust reputation. It is a practice that originated in the world of public relations when consumers learned about the brand via animated commercials, media, or word-of-mouth.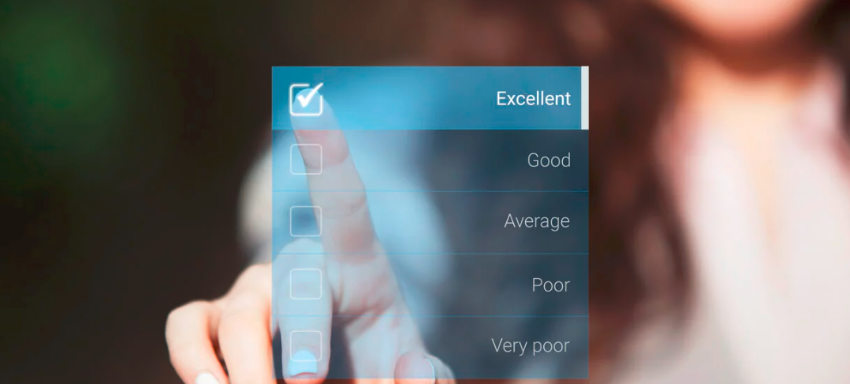 With the widespread use of search engines, websites, and social media, reputation management has become a larger topic of discussion in the digital dimension. The opinion that the public has about your brand is swayed by online reviews like social media comments, Google reviews, and much more.
Why is reputation management so important?
Your reputation can determine the success and failure of your business. Despite this, surprisingly a very small fraction of businesses are investing in building and maintaining their reputation.
Simply giving them good products at a lower price will not do the trick.
Did you know that 91% of millennials trust online reviews as much as they trust recommendations from their peers?
In this digital era with crowded marketplaces, businesses completely rely on trust and loyalty rather than offering good products at lower prices. Customers seek reliability more than price these days.
Having a sense of shared values and ethics is what customers seek nowadays. Stats like 64% of users cited that shared values are the sole reason they have a good relationship with a brand, back us up here.
A negative reputation can bring an abrupt halt to good relationships and might bring breakdowns in the brand-user connection. A good brand identity that translates into a reliable brand image is essential for business success. And several factors help build a brand, apart from delivering high-quality services or products at an affordable price. From user-friendly and easily navigable websites to graphics, such as a logo, banners, helpful customer service, etc., are essential to building a trustworthy brand. Your thoughtfully -crafted logo design can powerfully convey your brand message without uttering a word.
According to Hiver, 66% of customers end up making their purchase decision after getting to know about the brand's customer service reputation. This is why brands shower so much importance on reputation management.
But how can brands build a good reputation while managing it? Here are some tactics you can consider.
Brand reputation management tactics you can leverage in 2023
Managing brand reputation is a tough cookie, to overcome this we have come up with a detailed guide. You do not have to follow every piece of information, however, ensure that you filter what suits you best and is essential to implement.
So let's see what a reputation management strategy looks like in action.
Start with deciding on the management tool
The baseline is what people say about you. So you need to listen and monitor carefully and diligently what is being said about your brand. Understand what works well for your target audience and ensure that you are aware of any possible vulnerabilities.
Social media monitoring is a big part of reputation management. But you also want to know how many people search for your brand and what they search for that is relevant to your product. Keep a close watch on Google reviews and other third-party review sites.
There are reputation management softwares that help you automate the entire process and collate the findings to give you a better understanding of what your users like and dislike about your brand.
Collect reviews, and display them on multiple marketing touchpoints
This is the part where you take advantage of this information and repurpose all the reviews on multiple marketing channels after the review collection is done.
UGC review collection can be done through social media aggregator platforms like Taggbox. You can choose a source platform like Instagram, Google, Facebook, Airbnb, etc.
For Example – GoPro collected UGC through its GoPro awards which helps them to produce 130K visits on their website in 2019.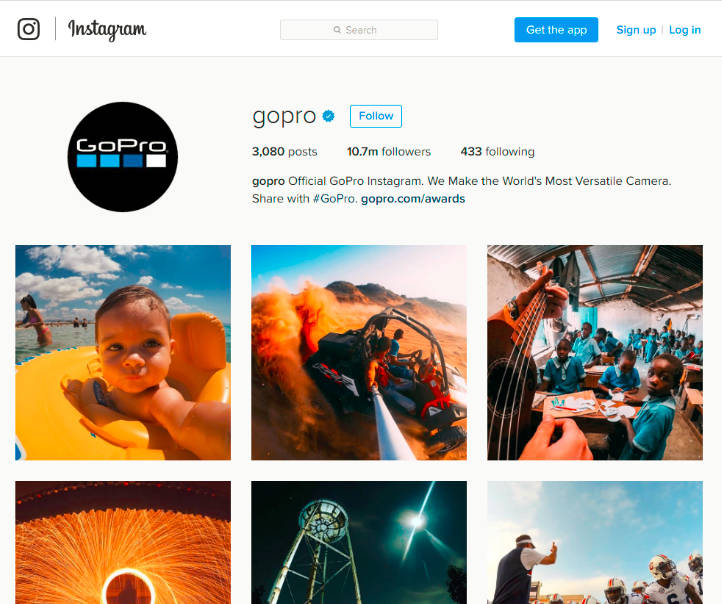 These platforms will then aggregate content on the basis of the said connection type from the list such as hashtags, mentions, tags, profile names, usernames, etc.
Intriguing no? Just wait.
They will then represent the aggregated content in a unified format. These widgets can be embedded on the website without any coding complexities. You can design the widget as per your requirement and moderate the content to display only relevant and valuable information.
These platforms make UGC review collection seamless and help you repurpose this information on channels like social media, ads, emails, websites, etc. This aggregates your entire online reputation and displays it to encourage potential prospects to become loyal buyers.
Marketing touchpoints don't just mean online, Joe Dough Sandwich shop did a wonderful job in turning negative feedback into a marketing tactic.
A user gave them negative reviews on feedback tool like Yelp, and Joe Dough displayed that review on their board to humor the criticism getting them better traction and engagement. 
Gather data from external sources
Your online image consists of factors that you cannot control like search results, social media accounts, news, review sites, etc. Knowing what people say about your brand on these platforms makes it easier for you to reach out and share your responses.
You can then address core user problems and PR efforts to tackle bad press or negative reviews. You can track brand mentions and product mentions across all platforms which also includes analyzing user sentiments to understand what made some users unhappy and work on it. You also understand what made your audience happy and you can amplify it.
Now let's talk about what to do with this information.
Respond to reviews and evaluate the experience
"If you can turn a negative review into a positive customer experience, your online reputation will benefit."
As much as listening matters, simply looking at what people say about you is never enough. As a brand, you need to ensure that you respond and give the required attention to every user that posts something under your brand's name.
And that's why you must respond to customer queries, solve their grievances and get back to them as soon as possible. They are the people that form your online community and online community management is very important. You can take the help of community management softwares and tools to do this more effectively.
Just like a Hotel brand "Stamford Plaza" replied on the user comment on the third party website "Trustpilot" to maintain its brand reputation.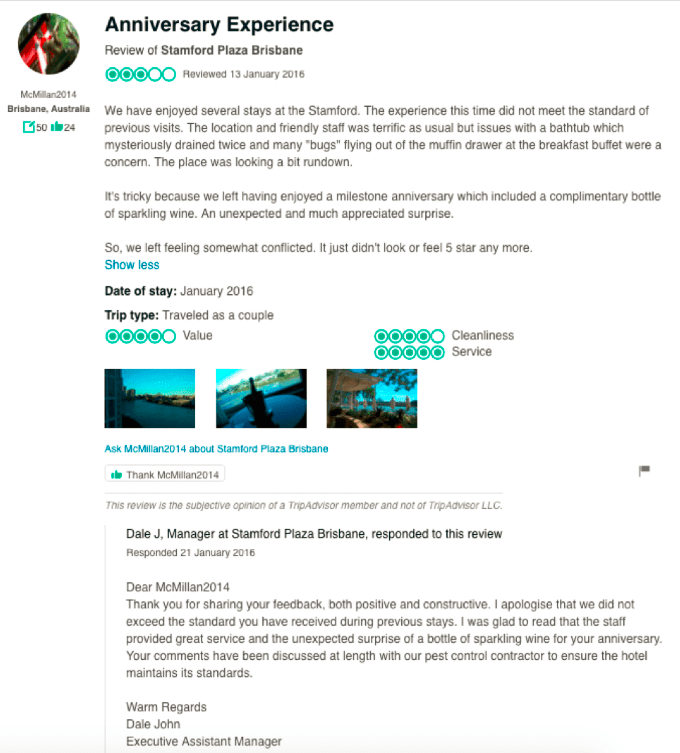 A negative review is an opportunity for improvement, you need to ensure that you respond to negative feedback with calmness, apologize to the user, accept the issue, and try to resolve it as soon as possible.
Being prepared for such a situation can go a long way. You can hold online conversations without causing panic or impacting your entire reputation. Address the most pressing issues beforehand and make sure your resolution is ready even before a user faces one.
Now, once the issue has occurred, and you have resolved it, it's time to evaluate the experience. It is a crucial part of reputation management. Curating a brand experience that takes responsibility for the feedback received, gives the required attention to reviewers, and actively tackles the issue develops a positive opinion making a direct impact on your brand reputation.
So, now that you have received, checked, and responded to every review you can, it's time to move on to the marketing aspect of all this – leveraging UGC on multiple marketing touchpoints.
Brands like Nike have a separate social handle "NikeSupport" to ensure that all their queries are coming in one place, this is easy to maintain and gives the brand enough time to actively respond to any feedback.
With this, we shall rest our case and let you decide how you wish to shape your reputation management skills.
Turning Unlinked Mentions into Helpful Backlinks
An unlinked mention is a reference to a website or brand without linking to it. This happens when someone talks about your business online, such as in a blog post, social media post, or forum discussion, but doesn't include a link. Unlinked mentions are valuable because they help spread awareness of your product or service and can potentially lead to more conversions.
But, you can maximize the value of an unlinked mention by turning it into a helpful backlink. With a few simple steps, you can turn an unlinked mention into a link that helps drive traffic and SEO benefits to your website or blog. Here's how:
1. Search for Unlinked Mentions
The first step is to search for unlinked mentions of your website. You can do this by using a tool like Keyhole, which will help you find any web pages that mention your site without linking to it.
2. Reach Out
Once you've identified the unlinked mentions, you can reach out to their owners and politely ask them to add a link. Depending on your relationship with the content creator or publisher, you may be able to offer an incentive such as a discount code or coupon in exchange for the backlink.
3. Monitor Your Progress
After reaching out, it's important to monitor the progress of your request. You can use a tool like Ahrefs' Backlink Checker or Google Search Console to track which webpages are linking back to you, so you can see when an unlinked mention has been changed into a helpful backlink.
By following these steps, you can turn unlinked mentions into helpful backlinks and increase the SEO value of your website or blog.
Wrapping it up!
So, with this, we come to the end of this blog, by this time you have a clear understanding of what to do with what is being said about you and maintain a positive reputation. Take this opportunity to listen and respond to customers for your benefit.
Follow as much as you can and see the result yourself. So what are you waiting for?
About the author:
Kanika Mathur is a content writer at Taggbox who is a believer in the power of words. She agrees with Dumbledore when he says,
"Words are, in my not-so-humble opinion, our most inexhaustible source of magic, capable of both inflicting injury and remedying it."
Follow us: