Making outstanding presentations is an important skill that everyone needs to acquire. You build short presentations at school, then you create bigger and more complex shows at university, and later, you polish your skill at work. Presentations serve as a great tool to compile information in a concise and comprehensible manner which makes them so popular and useful.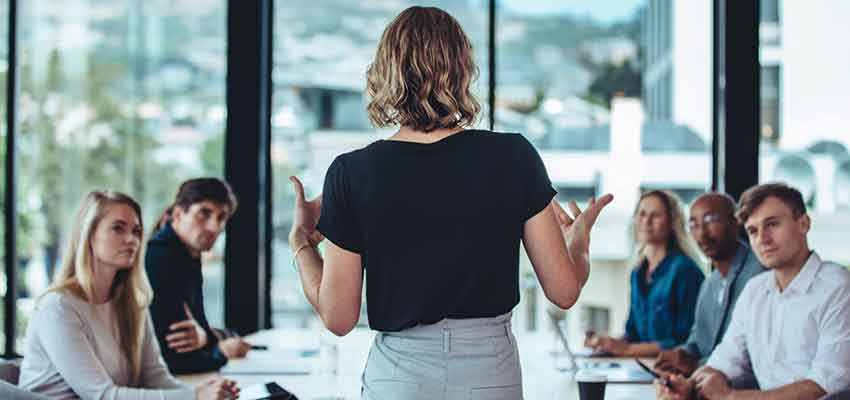 If you having troubles choosing the right software, you are not alone. The market is so saturated, that you can easily get lost in the endless options. Let's take a look at the top 4 best software for slideshow presentations.
Google Slides
Google Slides is a Google built tool for dynamic presentations. You can build presentations with animations, include videos and images, as well as narration. The interface resembles the well-known PowerPoint program but the set of features is extended with new exciting tricks.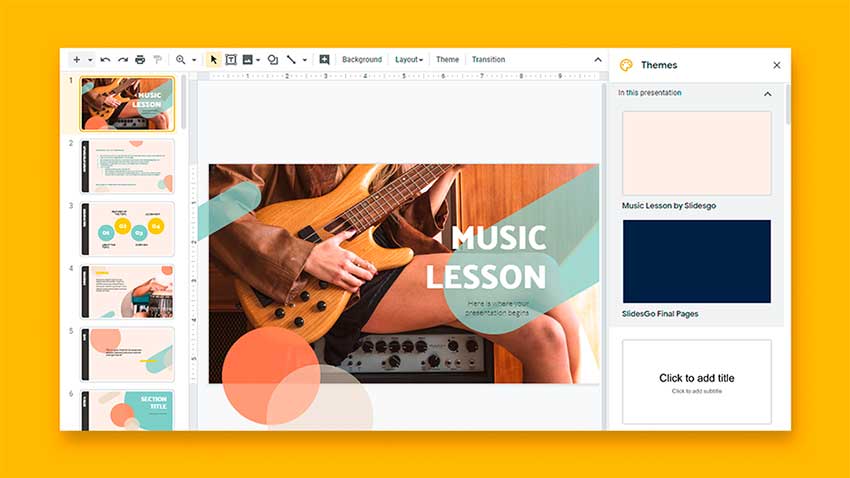 Google Slides provides you with a variety of different themes with various color combinations, stylish fonts, and slide designs. You can even add and edit GIFs to your presentation. But a truly helpful feature that Google Slides has to offer is Audience Q&A. During the presentation, viewers can leave a note with a question or comment inside the presentation, and the owner can respond at any moment he or she has time.
Finally, Google Slides allows you to synchronize the presentation across the devices. You don't have to edit each presentation separately, because when you edit one, the others automatically catch up with it.
Prezi
Prezi is another popular software for presentations with a rich palette of great options. Although its layout and features might seem a bit too difficult to immediately grasp, you can do many exciting things with it.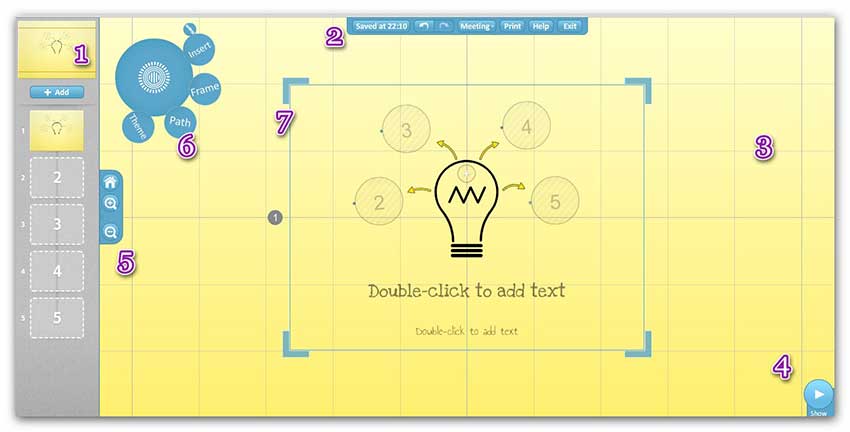 Much like Google Slides, Prezi also offers a collaboration tool that allows several users to work on one presentation at the same time. Besides that, Prezi provides a mobile version of the program that can be used on iOS phones and tablets. You can embed videos from YouTube or your own computer gallery, add images and various fonts.
Finally, you can import slides from PowerPoint. This is especially helpful if you are used to working with PowerPoint as do not have time to learn all the intricacies of Prezi at once. You can build a presentation in PowerPoint, import the slides to Prezi and spice them up there.
SmartSHOW 3D
Unlike the above-mentioned tools, SmartSHOW 3D is very easy to use. The interface is self-explanatory and the intuitive navigation will help you master the slideshow presentation software in no time.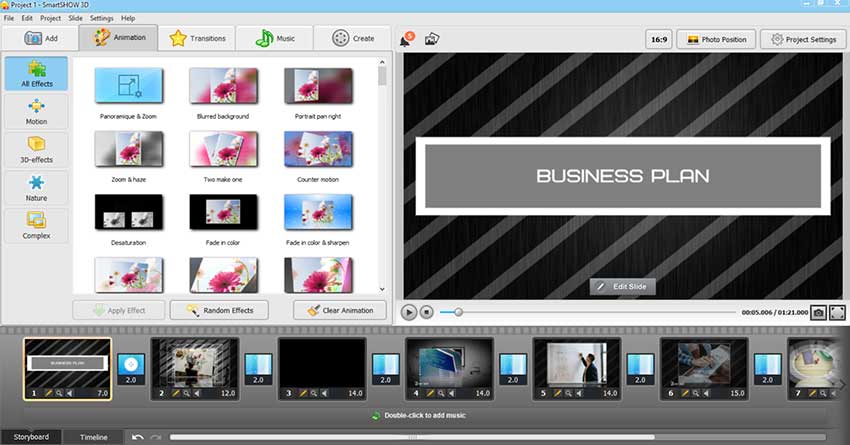 SmartSHOW 3D is a great time saver for everyone who urgently needs a presentation. Using the "Slideshow in 5 minutes" feature, you can build a professional presentation very quickly and effortlessly. The program offers an extensive music library with over 200 songs that will perfectly capture the mood of the presentation, whether it is for work or for fun. A very exciting feature of SmartSHOW 3D is the voice recording option. Instead of writing down a lot of information that will be difficult to perceive, you can narrate some of the slides and make the presentation easier to watch and comprehend.
SmartSHOW 3D has a wide variety of templates, transitions, 3D tools for the animation of images, videos, and captions. When you are done making your project, you can convert the slideshow into one of 30+ popular formats or upload it to your social media accounts.
Powtoon
Last but not least in Powtoon – a slideshow presentation maker for engaging animations for any purpose. Powtoon also has a user-friendly interface that allows you to learn the program very quickly. Even without extensive knowledge in video editing, you can create powerful animations that will make your presentation stand out.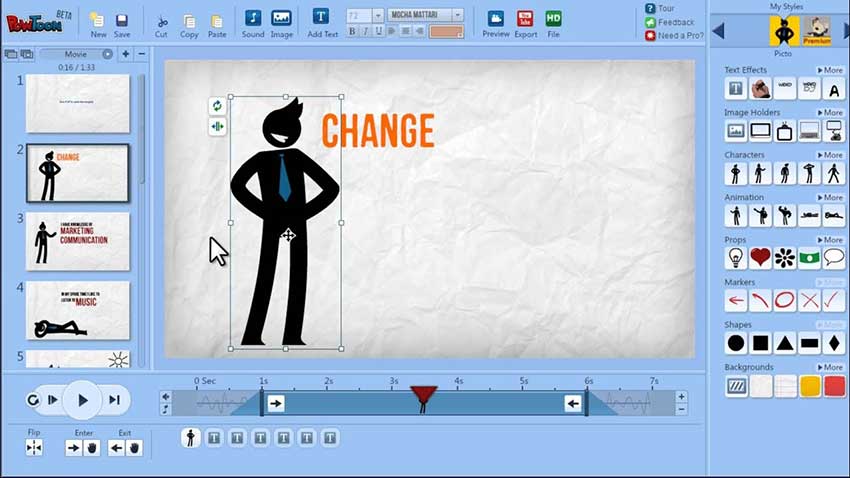 Powtoon has a large database of royalty-free images, videos, and animations that you can use to make your work more exciting. This program is very diverse and can be used to create funny videos to send friends and professional presentations for work and university. Powtoon's client base is also very impressive – companies like Coca-Cola and eBay use the program to create marketing content. A potential downside of the software is its price which is quite steep when compared to the tools above.
Before You Go
We have introduced you to the four most known presentation makers on the market. If you want to learn more slideshow presentation software, check out the link. Nowadays, there is an abundance of slideshow and presentation tools which makes decision-making even more difficult. Our top four programs all have great features and stand out from the competition one way or another, so you can't go wrong here. Get familiar with the features, assess which functions are more important to you than the others, and make your choice.
Follow us: