Ubersuggest, SEMrush, and Ahrefs; these three SEO tools are widely known in the SEO space.
Whether you're looking to come up with target-worthy keywords, generate content ideas, or bolster your link building efforts, these tools have all the bells and whistles you need to get the job done.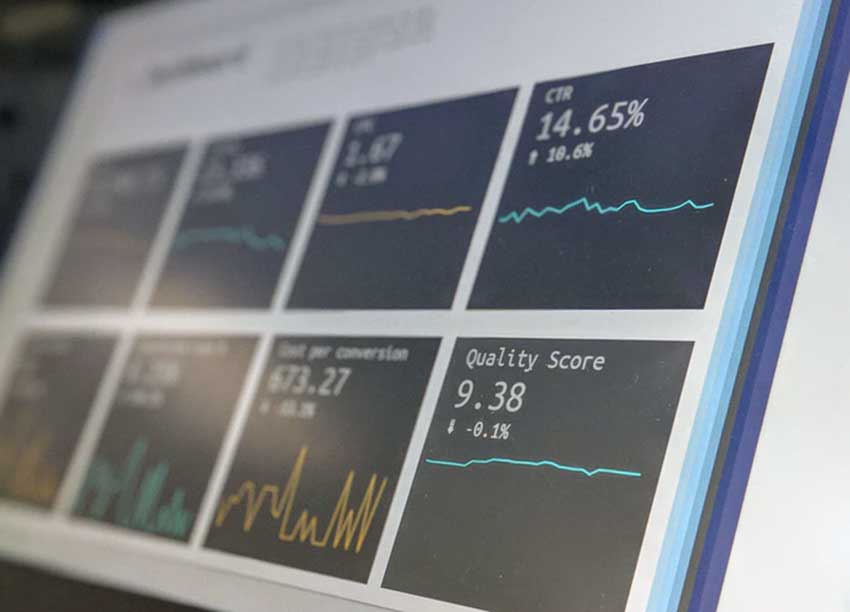 That's a good thing, of course. Sadly, that's also why it can be challenging to choose between the three SEO tools.
To help you determine which SEO tool is the best fit for your business, we gave each tool a closer look.
Ubersuggest vs. SEMrush vs. Ahrefs: Which SEO solution is perfect for your business?
We'll break down the key features and advantages of Ubersuggest, SEMrush, and Ahrefs to make an in-depth comparison of the three SEO tools.
Ubersuggest
Ubersuggest is a freemium SEO tool with an easy-to-use interface and beginner-friendly features to boost your web pages' ranking in the search engine results pages (SERPs).
The platform's features include valuable insights such as keyword analysis, a traffic analyzer, and an SEO website analysis tool to help bolster your marketing strategies.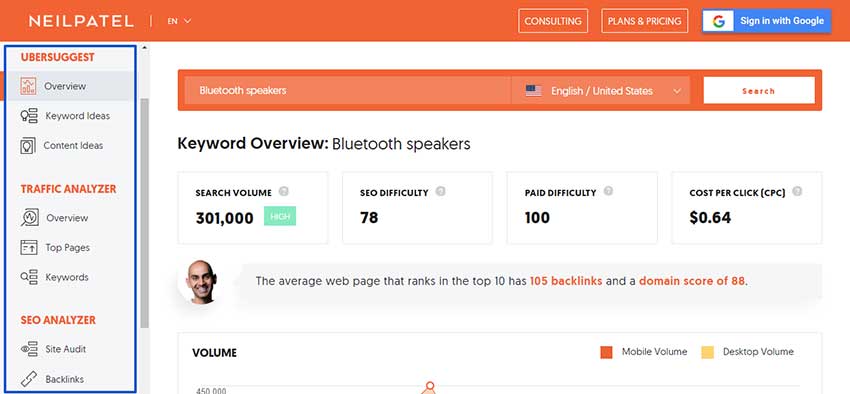 Even without signing up for an account, its users have access to almost all of Ubersuggest's features and data for free (with a daily limit). Signing up for a free account will give you more access to the tool. If you'd like to get rid of Ubersuggest's daily limit, subscribe to any of Ubersuggest's affordable packages.
With the SEO goldmine that is Ubersuggest, marketing newbies and startup businesses can quickly propel strategies forward.
Here's a more in-depth look at Ubersuggest's central features.
Keyword insights
When you enter your keywords, Ubersuggest will show you the following:
Average monthly search volume. This tells you how much traffic the keyword gets, helping assess its viability as a keyword to rank for in your content and marketing strategies.
SEO difficulty. The number represents the estimated competition in organic search. The higher the number, the more difficult it is to rank for the keywords.
This helps you determine the feasibility of ranking for your keywords.
Paid difficulty. Higher numbers indicate higher competition paid search.
Cost per Click. This is the estimated cost per click when your website appears on Google's search page as an ad. A high CPC means the keyword is more valuable.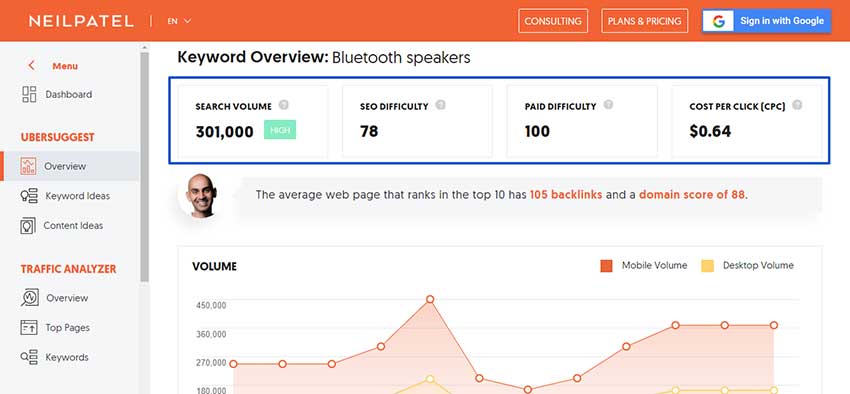 The tool also shows keyword ideas from the search terms people type into Google in questions, prepositions, and other formats.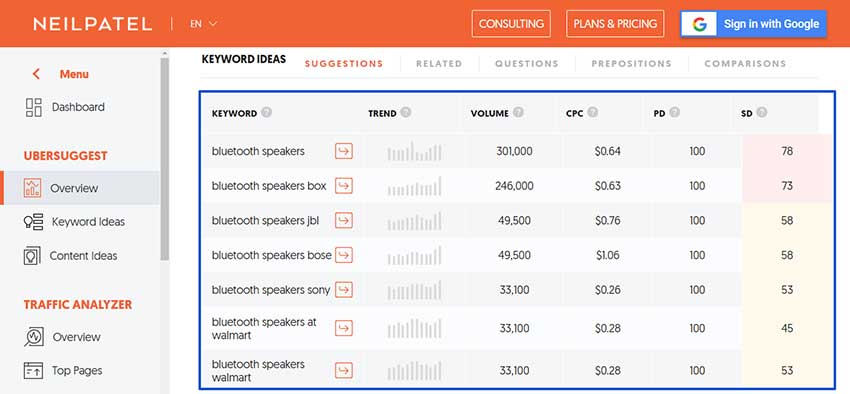 Plus, you'll get content ideas from the tool's list of the top page titles and URLs, including their estimated monthly visits, number of backlinks, and social shares.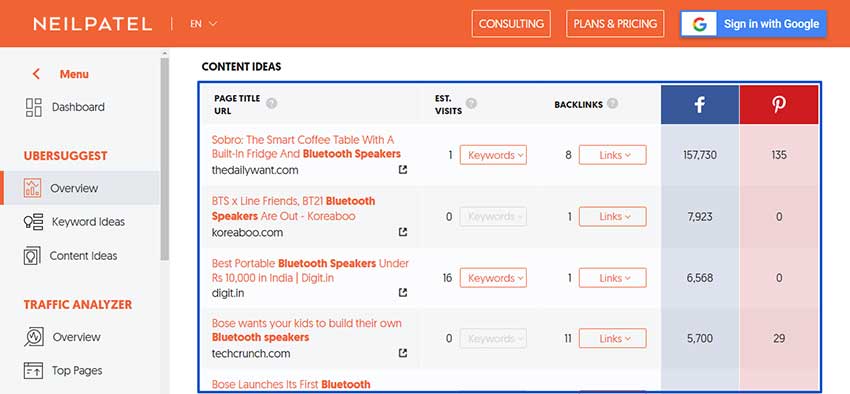 These data and insights help you determine the viability of ranking for your chosen keywords, and, in turn, fine-tune your SEO and marketing strategies.
Traffic analyzer
Ubersuggest's traffic analyzer helps you perform competitive analysis and gain ideas on your competitors' traffic-generating SEO strategies.
The tool analyzes your competitor's website and shows you the number of organic keywords the domain ranks for, organic monthly traffic, domain authority score, and incoming backlinks.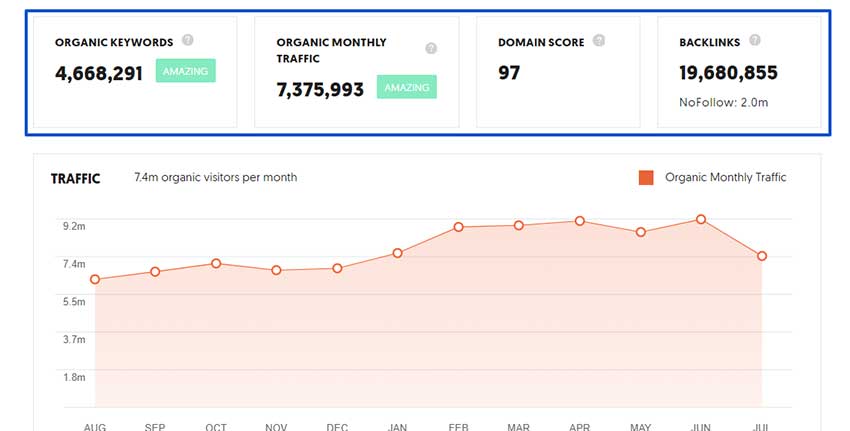 Other information you can get include your competitors' SEO keyword ranking, a list of top pages and URLs on the website with the most traffic, and the keywords the domain ranks for in organic search.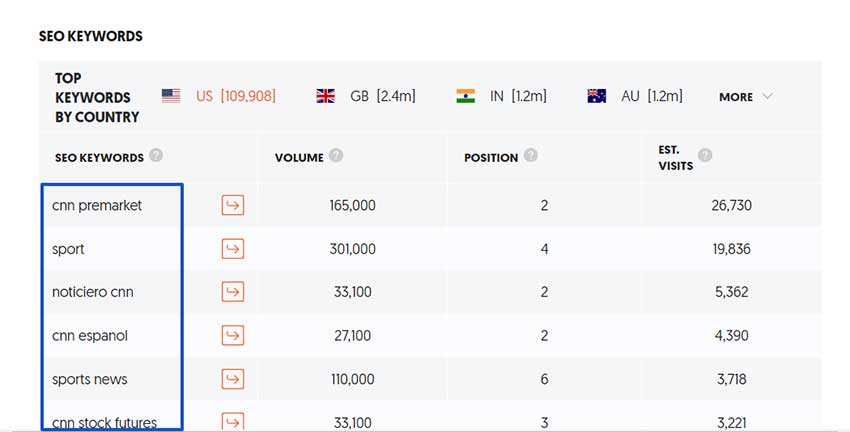 SEO analyzer
Ubersuggest lets you perform a site audit and crawl your website for any SEO technical issues that would negatively impact your ranking and site's overall health.

The tool shows you critical website errors, warnings, and recommendations to fix the issues.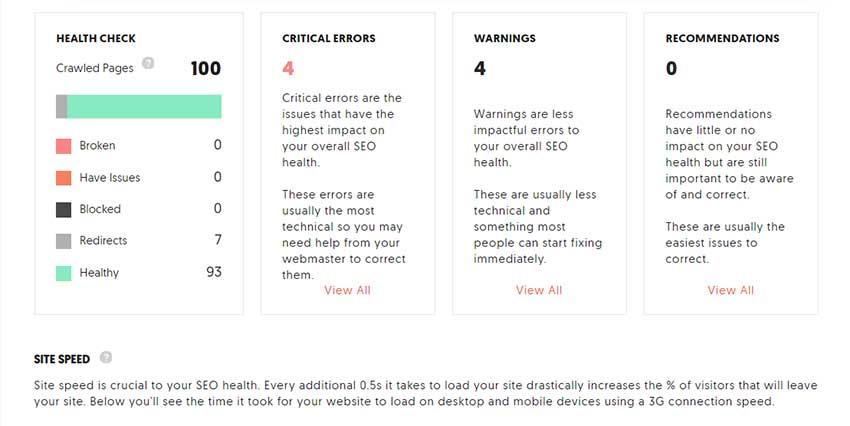 You'll also get reports on your site's load speed and how fast it loads on desktop and mobile, including a breakdown of your top SEO website issues.
Pricing
Accessing most of Ubersuggest's essential SEO features are free.
To enjoy the tool without daily data limits, sign up for one of Ubersuggest's affordable paid plans.
Individual: $12 per month
Business: $20 per month
Enterprise/Agency: $40 per month
SEMrush
SEMrush provides an all-in-one suite of tools to optimize your website for search engines and rank higher than your competitors. 
The platform offers a spectrum of features, such as competitive research, link building, and rank tracking (among others), but in this guide, we'll focus on a few of its essential tools.
Keyword research
SEMrush's Keyword Magic Tool gives you thousands of keyword suggestions to help you find the right keywords to target for your SEO and marketing campaigns.
The tool shows you data such as suggested long-tail keywords, the average monthly search volume, a trend graph, keyword difficulty, CPC or the average cost of advertising the keyword on Google, the level of competition for entering Adwords bidding, and more.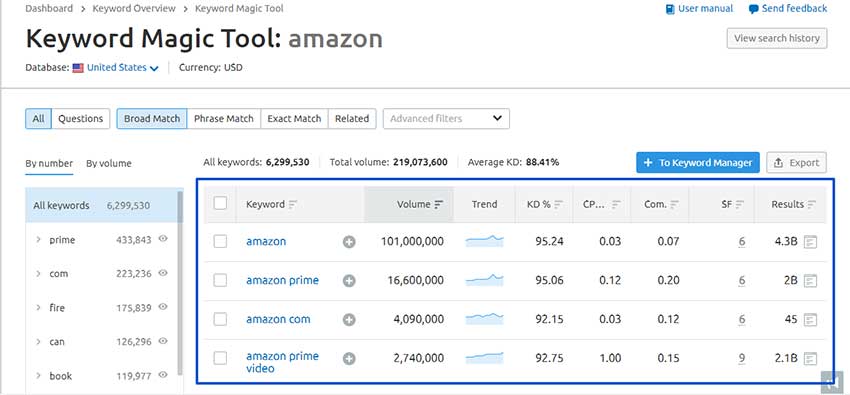 The tool makes it easy for you to sort through the keyword insights with an advanced filter feature.
You'll also see a breakdown of the commonly used keywords associated with your search term, which you can use to find the best keyword to target for your SEO strategies.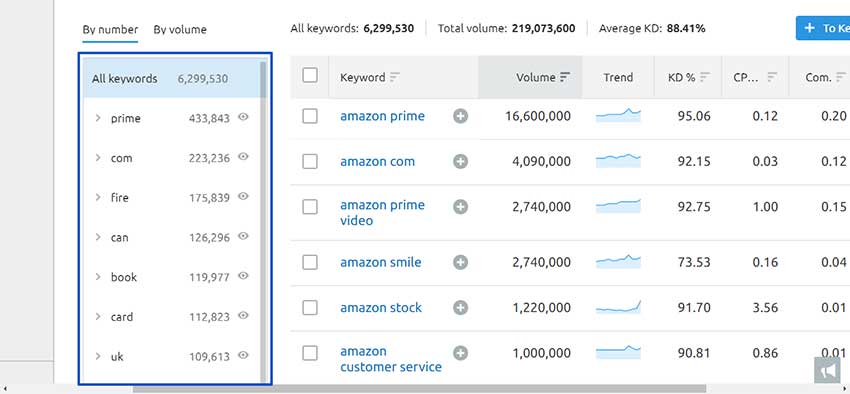 Other SEMrush keyword research tools include a keyword analyzer tool to explore your chosen keywords further and a keyword manager to store your collected data and reports.
Competitive research
With the Domain Overview feature, you'll gain insights about the keywords your website already ranks for, including those of your competitors.
The tool gives your organic and paid search traffic from keywords in the SEMrush database.
It then uses an algorithm to estimate your monthly average traffic based on the position and number of keywords and click-through-rate (CTR).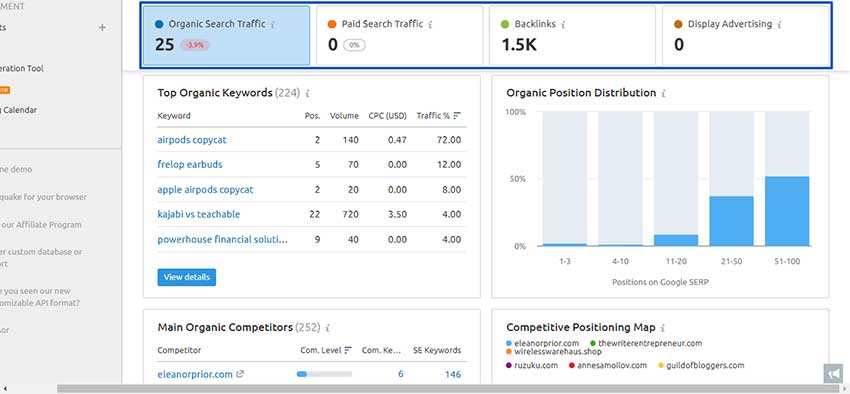 Other domain overview insights include your main organic competitors, a competitive positioning map showing the strengths and weaknesses of competitive domains' presence in organic searches, referring domains that drive traffic to your site, etc.
On-page and technical SEO
SEMrush helps you perform a website audit to identify problems that could hinder your site from functioning optimally and negatively affecting your rankings and SEO efforts.
The tool crawls your web pages to find errors, uncover warnings and notices, provide thematic on-page SEO reports, and the top issues affecting your site's performance.
Pricing
The lowest SEMrush pricing plan is at $99.95 per month with a seven-day free trial, including a 16% savings for annual billing.
Ahrefs
Ahrefs is an SEO tool that offers features to help you with your keyword research, content marketing strategies, backlink analysis, and others. 
Keywords explorer
The tool gives you boatloads of keyword insights and ideas, including the search volume, keyword difficulty, organic clicks, pay-per-click (PPC) data, and others.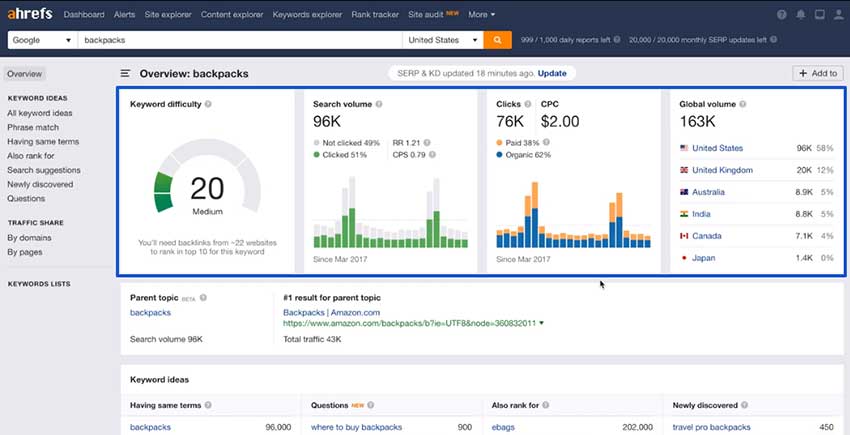 You'll also see the Parent Topic feature, which helps you assess if you can rank for your target keyword while targeting a more general topic on your page.

For instance, if you're targeting "backpacks for kids," the parent topic suggests keywords out of more popular queries to help you rank higher in SERPs, such as kids backpacks.
This helps you find the best keywords to target to optimize your web pages for maximum search traffic potential and improve your ranking.
Site Explorer
Ahref's Site Explorer tool lets you view and analyze your competitors' performance in paid and organic search.
It also allows you to gain insights into your competitors' strategies to help you outrank them in SERPs.

Under the overview page, you'll see a top-level view of your competitors' organic traffic and the number of keywords they rank for.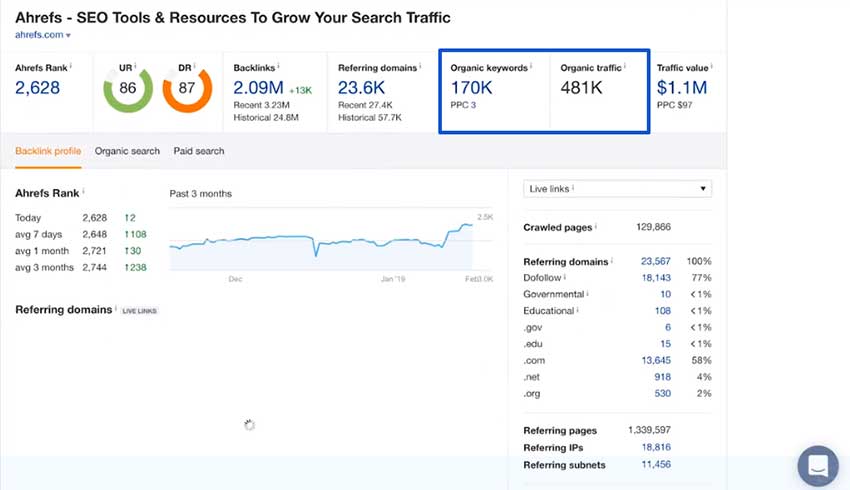 Other insights include your competitors' current SERP ranking, number of backlinks, referring domains, a graph that helps you visualize their organic traffic growth and decline, backlink profile, and others.
Site audit
Assess your website's on-page SEO performance with Ahref's site audit tool to determine errors that keep your website from ranking higher in SERPs.
The tool automatically checks and tracks your website for any technical SEO issues using cloud-based crawling.

You'll get an overview of your website's SEO health, such as your health score, the number of crawled URLs, and those with errors.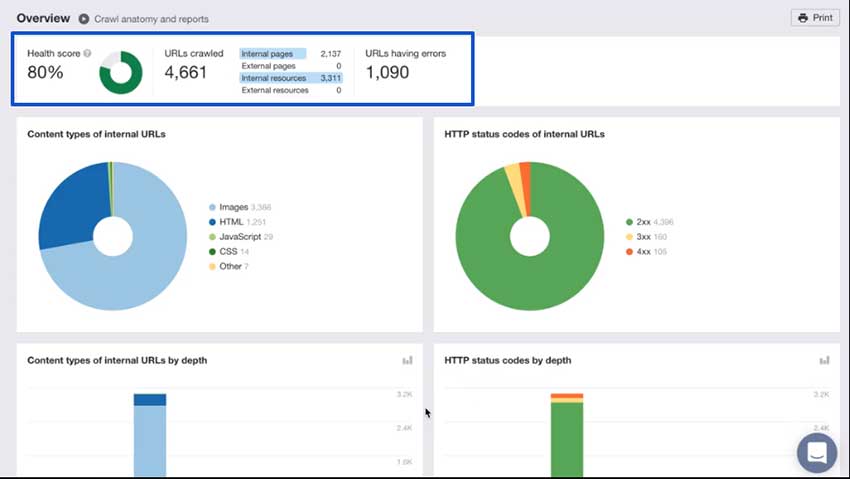 The tool will also show you a list of identified SEO issues, including details and descriptions of recommended fixes.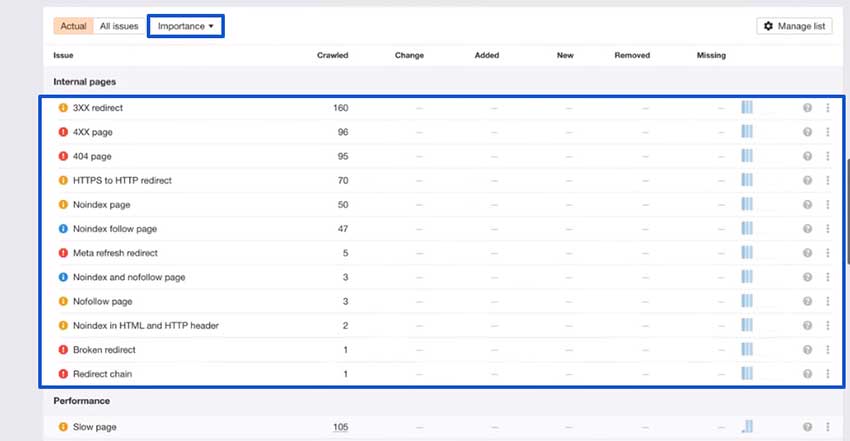 A dropdown filter lets you prioritize the most pressing issues and work your way down to the least concerning errors.
Pricing
The Ahrefs Lite plan is at $99/month for a single account that includes five projects, while the Standard plan costs $179/month for one user and ten projects.
And the first place goes to…Ubersuggest!
Each tool in this guide has the features necessary to help you successfully implement your SEO and marketing campaigns, drive relevant traffic to your website, rank higher than your competitors in SERPs, and, ultimately, increase your revenue.
But in this guide, Ubersuggest is the victor.

Ubersuggest's freemium structure makes it more accessible. It allows its users to use most of its features for free, and even its pricing structure is far more affordable compared to SEMRush and Ahrefs.
With Ubersuggest, marketers have access to all the SEO features they need to succeed in ranking their pages — all while paying very little to no fee at all.
Did you find this guide useful? If so, please take three seconds to share the post. Cheers!
Follow us: