We've all gotten them – emails that seek to advertise a product, a course, or something else which you did not ask for. More often than not, they can be corny and boring. This is even true for newsletters, which you subscribed to. According to studies, up to 17% of customers unsubscribe from mailing lists if you send out information too frequently or they are boring. When it comes to email marketing strategies, there are no standards. Although a lot of companies still tend to take the serious route, we would like to remind you of an alternative approach – humor. According to a study done by the Academy of Marketing Science, humor has a significantly positive effect on marketing campaigns.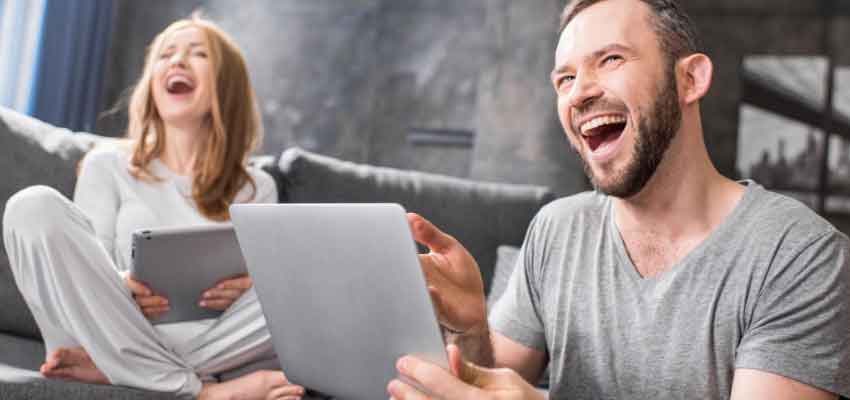 People love something that lifts them up, makes them chuckle, and brightens their day even just a little. On top of that, humor elicits an emotional response, which naturally translates to a deeper affinity with what is being presented. It does not mean that you have to go full clown on your customers, but just a bit of lightheartedness can go a long way. In this article, we will present to you six examples of email marketing done right. 


The Best email Marketing Examples That Include Humor


Holland & Barrett
Our first example is from Holland and Barrett, an English health food retailing company. It is an email got by customers subscribed to their emailing list. This is a great example of how introductory newsletters can be cute, funny, and welcoming. It beams out a positive and light attitude, especially due to the sweet animals in the picture.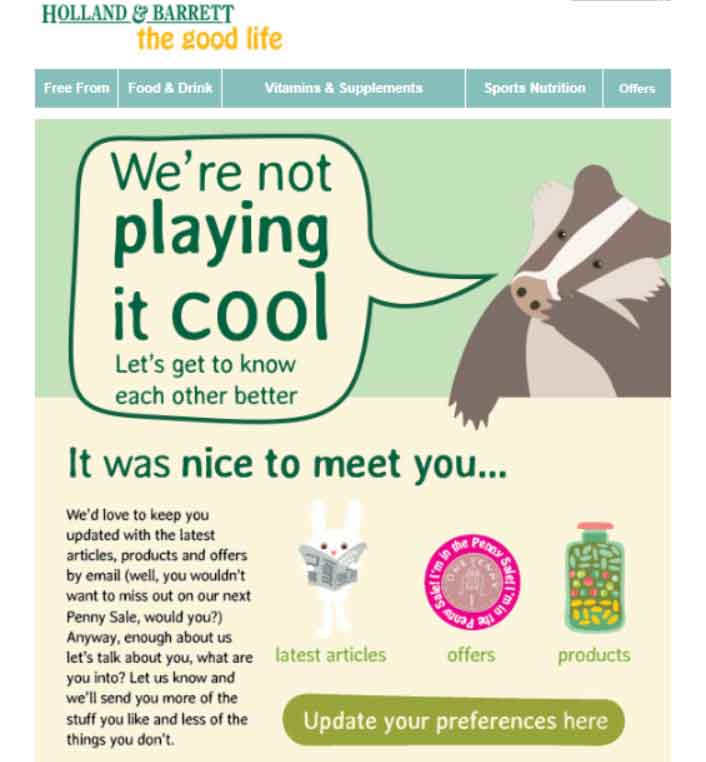 All this cuteness works to be associated with their brand, and that is a smart way to go about things. This sort of example won't have your customers laughing out loud, but it is enough to evoke a smile, therefore adding some positivity to their day. Such an example is also a great reminder that using animated characters can work to your benefit. To craft emails that are more than just text, it is always helpful to integrate email marketing tools into your workflow. 
Essay Supply
  
Our second example is from Essay Supply. It features a popular character from the popular animated TV series Rick and Morty. Using well-known characters can be a great way to incorporate something that a lot of customers are likely to already love.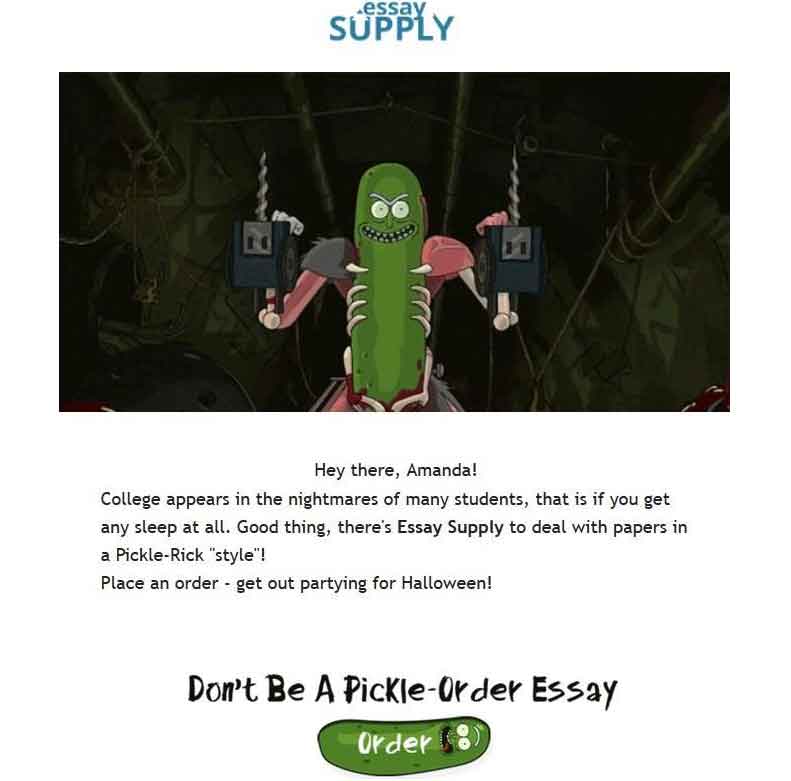 By shifting the context of the picture, Essay Supply put a whole new meaning on it. Granted, this is a spooky one, but it fits well with the Halloween theme that is currently appropriate. Another neat tip for email marketing is to tie it to a specific holiday, viral imagery, or other things that make sense at a particular point in time. This makes marketing emails all the more special!
Really Good Emails
This is an example we took from the company Really Good Emails, that often use humor to pepper up their marketing. The additional subject line contained the words "Honk if you love emails".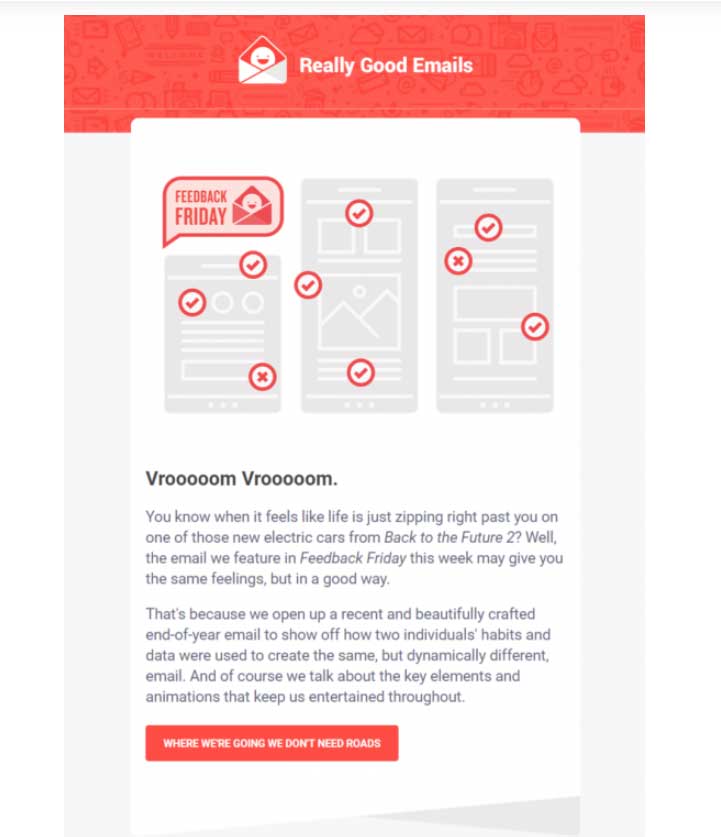 This email was meant to promote the Feedback Friday campaign. It looks like a fun email one would at least want to pay attention to. That is half the battle in successful email marketing.


Casper
This is a great example of how to make a cart abandonment related email fun. The company Casper sends these out whenever a customer puts something in their cart but leaves the site without continuing the purchase. The email acts as a cute reminder to give the item a second thought. Without humor, this could be seen as a little intrusive and off-putting.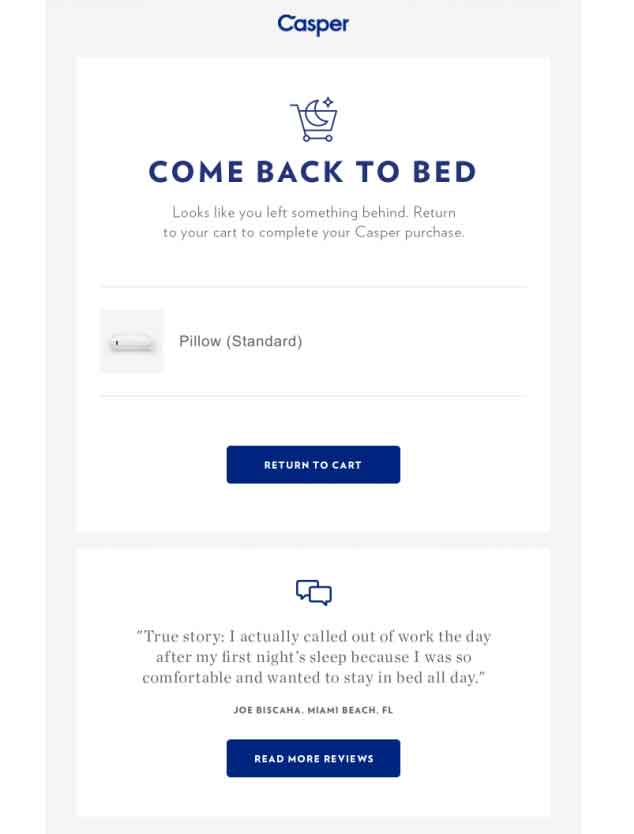 However, Casper manages to pull it off quite nicely with a little bit of lightheartedness. The written text is quite simple but remains effective and to the point. Such thoughtful marketing makes all the difference, and sites like Mr Bet are a case in point. It shows care and thoughtfulness towards one's clients. That is what makes great companies stand out from the rest


Chicmarket
This is an email that was used by Chicmarket for their Easter campaign. The whole idea is pretty charming from the start and is bound to get some smiles. Surely not everyone has the same sense of humor, so it can be hit-and-miss.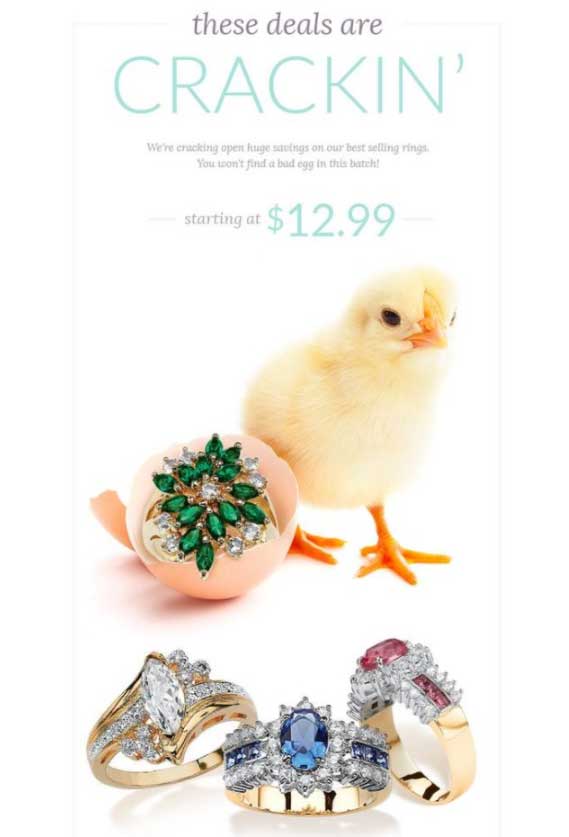 However, that is the risk when you embark upon doing tongue-in-cheeck stunts for marketing. It either will be understood, or not so much. At the very least, it is likely to be a lot more memorable than a dry email, right?
Modcloth
Here you can see the Modcloth Halloween campaign poster. In this example, some funny wordplay was used to get the idea across. The benefit of email marketing is that you can get as creative and out-there as you want.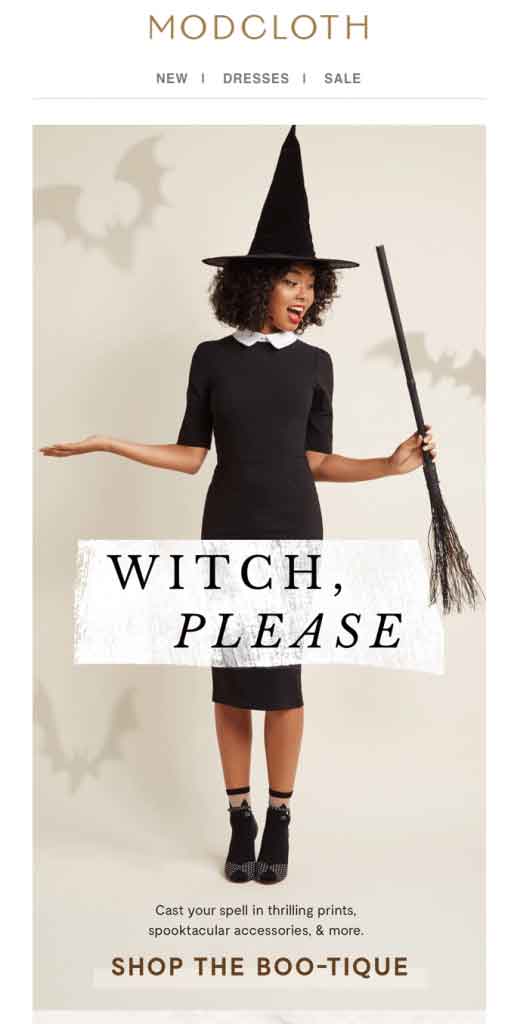 While this is not offensive, it hints at some curse words, which makes the email campaign slightly edgy. It definitely will get the attention of customers and put a grin on their faces.


Email Marketing for Gaming
Once you have your email strategy on point, the following step to becoming great at optimizing your marketing process and reach. There are email marketing platforms that offer such services to take that load off your shoulders. However, if you are in the gaming industry, finding someone great to outsource this process can be a tad trickier. We would like to recommend the marketing platform WebEngage to you. It specializes in the field of gaming and boasts a reach of over 300 million monthly engaging users. A success story from ZenGaming shows that WebEngage managed to increase the company's retention rate by as much as 26%.


All in all, incorporating something fun into your email marketing can act as a way to create positive emotions, establish trust, and make your brand stand out. We do not mean that you should start telling jokes to your customers, but that it is worthy to take a light-hearted approach to marketing in general. If you are not great with humor yourself, then you could employ an email marketing service or PR company to help you out with some ideas. We hope that these examples inspired you and put a grin on your face. If you have any tips on what email marketing software to use, what advertising tools work best for you, or what did not work in your experience, please share them in the comments below. We would love to hear your opinions!
About the author:
Thomas Glare is an experienced copywriter and digital marketer with a master's degree in media studies. He helps his clients identify their brand identity and core message, attract customers, and sell services. Thomas also loves blogging about marketing. It helps him to stay on top of all the emerging trends in the fast-changing world of advertising.
Follow us: