Are you a local business wanting to have a strong presence on Google?
Then, this local SEO checklist is a good place for you to get started.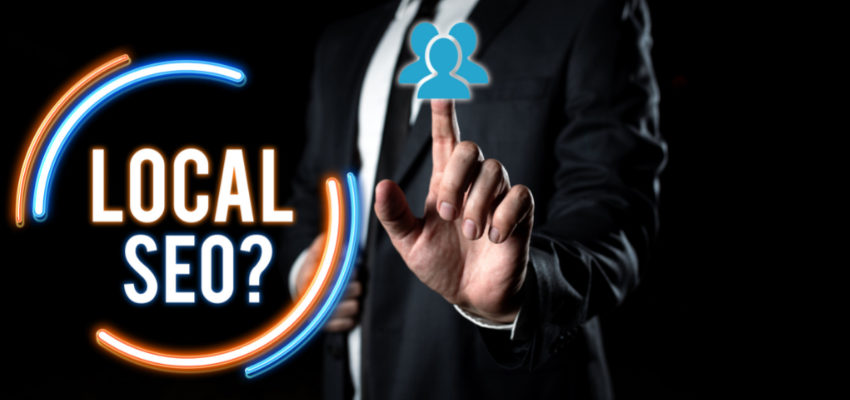 If you're wondering why local SEO has gained prominence in recent years, here's the reason. According to BrightLocal, in 2021, 99% of consumers searched for information about local businesses on the internet.
And more than 8 out of 10 users head to Google to conduct such local searches. This makes it important to rank well in the search results.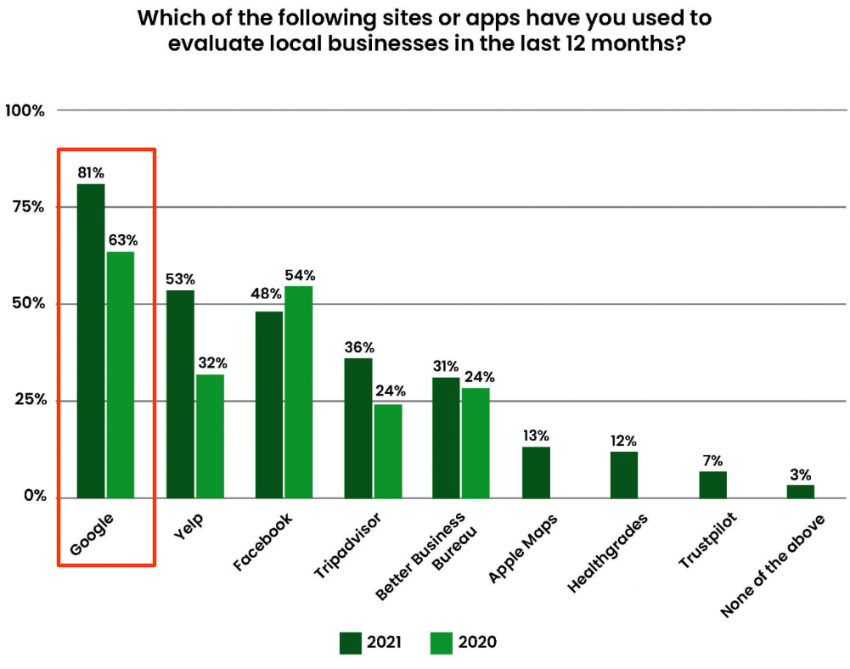 Image via BrightLocal
It's only when you rank higher in the search results that you'd be able to get your brand in front of your target audience.
But how do you achieve it, especially with so much competition?
In this quick local SEO checklist, I have included 5 important actionable steps you can take to kickstart your efforts at boosting your rankings in the search engine results pages (SERPs).
Let's get started.
5 Important Action Items to be Included in Your Local SEO Checklist
Local SEO can be a lengthy and complicated process if you do not address the most important elements first. This is essential to get maximum return from your SEO investment.
Here's a local SEO checklist that you can use to build a strong brand presence on Google. 
1. Conduct Local SEO Audit
Before you begin working on improving your website's ranking on Google, you need to conduct a local SEO audit.
Performing a comprehensive audit will help understand your website's current position and how you can go about improving it.
There are many top-notch SEO tools like Semrush, IndexCheckr, Ahrefs that you can consider for auditing your SEO status. 
You should audit both your on-page SEO, off-page SEO, and NAP (name, address, phone) information to ensure that your website ranks in local SEO search results.
You can create an effective SEO audit report to present your management. Here you can read this free Attrock SEO checklist template to know how you can create effective SEO audit reports.
2. Optimize Your Google My Business Profile
What's perhaps the most effective way to gain visibility in local search results on Google?
Experts vote for Google My Business profile over every other parameter.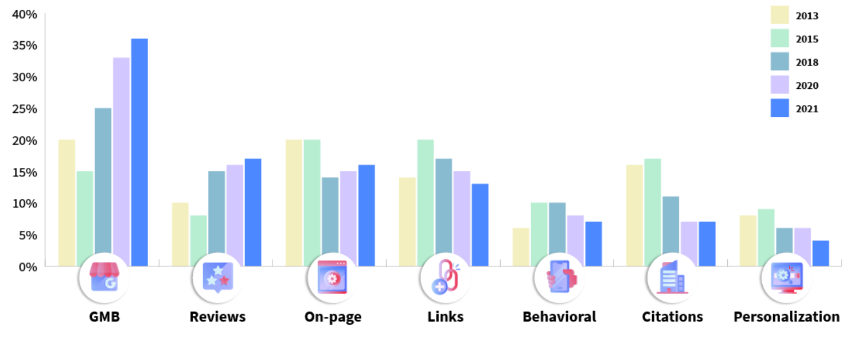 Image via Whitespark 
To optimize your Google My Business listing, begin by verifying your ownership and updating all business-related information.
Make sure your NAP information is consistent with your website. Your customers will also be looking for details like hours of operation, products and services you sell, images, and payment methods.
You should do a proper CRO audit and make all this information available to them.
Also, embed google reviews on your website to integrate your Google business page. Such a well-optimized business profile will go a long way in establishing your brand's credibility and attracting new leads.
3. Target Local Keywords
Here's something you can't miss on your local SEO checklist. To get your brand in front of your target audience, you need to first find the keywords they use to search for your business. When it comes to local businesses, these keywords are not generic but localized.
And what exactly are local keywords?
These are keywords that are specific to a particular location like a city or state.
And how do you find these local keywords?
You can start by using keyword research tools and enter terms related to your business along with your location. This should give you a list of potential local keywords. 
Once you've found the keywords, you can incorporate them into your website content. This includes your pages and blog posts.
Doing so will help your website rank for those keywords. And to check your rankings, you can use a local rank tracker that can show you all the local keywords you're ranking for.
Based on these rankings, you can determine if you need to optimize them further or not.
4. Encourage Customer Reviews
Did you know that customer reviews are one of the top-ranking factors for Google? Not only the search giant but nearly 50% of consumers trust customer reviews as much as personal recommendations.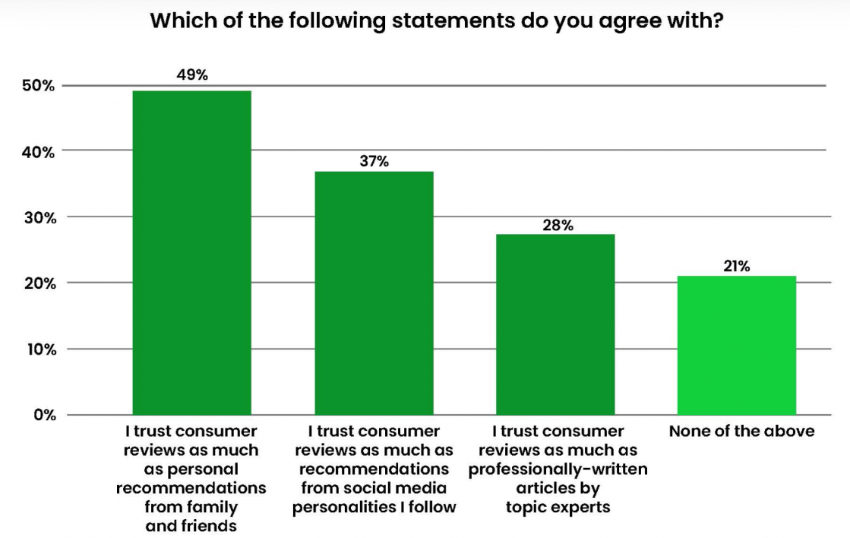 Image via BrightLocal 
Reviews can thus be one of the best ways to generate leads for your local business as they help you harness the power of social proof. 
To strengthen your credibility, you should work towards collecting plenty of genuine reviews.
Ask happy customers to rate your business and share their positive feedback on Google. This can play an important role in boosting your local SEO and reputation too.
But don't just stick to Google.
Remember to collect positive reviews on different platforms, such as business directories and social media channels.
5. Optimize for Mobile Users
Smartphones are the go-to option to search for information online with over 54% of all traffic originating from them. That makes it essential to develop a website that's mobile-friendly to improve your local SEO.
Having a responsive website will help your visitors navigate easily through the website and find the information they are looking for.
In fact, responsiveness is one of the most important features for your mobile website if you want to improve your local SEO.
The reason here is that a mobile-friendly website improves the browsing experience as a desktop website wouldn't be easy to navigate on smartphones.
Ready to Boost Your Local SEO?
Local SEO can be a great way of placing your brand in front of your target audience. It helps improve your ranking in the SERPs and can also become a valuable source of leads and conversions.
This checklist will help you optimize your website and GMB listing for local SEO, leading to an improved ranking.
Go ahead and kick start your local SEO journey and see how it can bring your business visibility, traffic, and sales.
About the author:
Reena Aggarwal is Director of Operations and Sales at Attrock, a result-driven digital marketing company. With 10+ years of sales and operations experience in the field of e-commerce and digital marketing, she is quite an industry expert. She is a people person and considers human resources as the most valuable asset of a company. In her free time, you would find her spending quality time with her brilliant, almost teenage daughter and watching her grow in this digital, fast-paced era.
Follow us: