eLearning platforms were abundant before most of the people discovered them prior to the coronavirus pandemic when online learning really took off. These platforms differ in many ways but they have one thing in common: they facilitate the need to learn new info without the need for direct contact.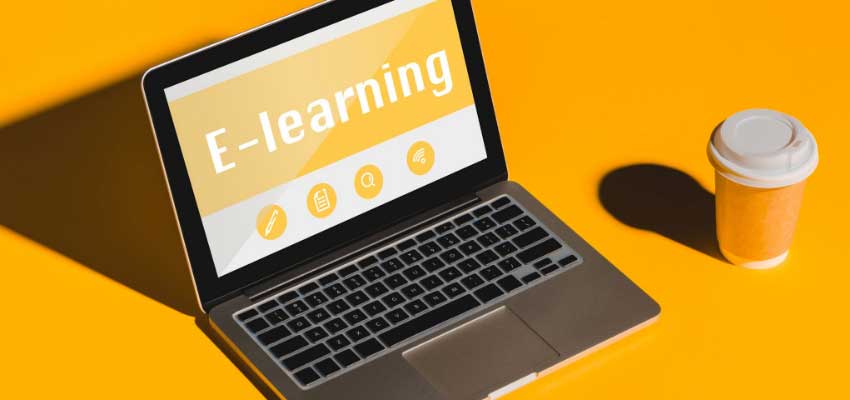 As more and more schools and universities introduce online classes, even partially, officials are constantly searching for the eLearning platform that would suit their needs the best. At the same time, business owners are looking for innovative ways to train staff and hold meetings.
The needs of these two groups of people are similar enough that they can find what they are looking for from the pool of the best eLearning platforms. The 10 best eLearning platforms we are about to list have tens of millions of users combine, making them ideal both for universities and businesses alike.
1. Docebo
Released in 2008, Docebo is a collaborative learning platform mostly use in formal learning. The facts that it's fully customizable and easy to use, makes is popular among students, who use it to interact amongst themselves.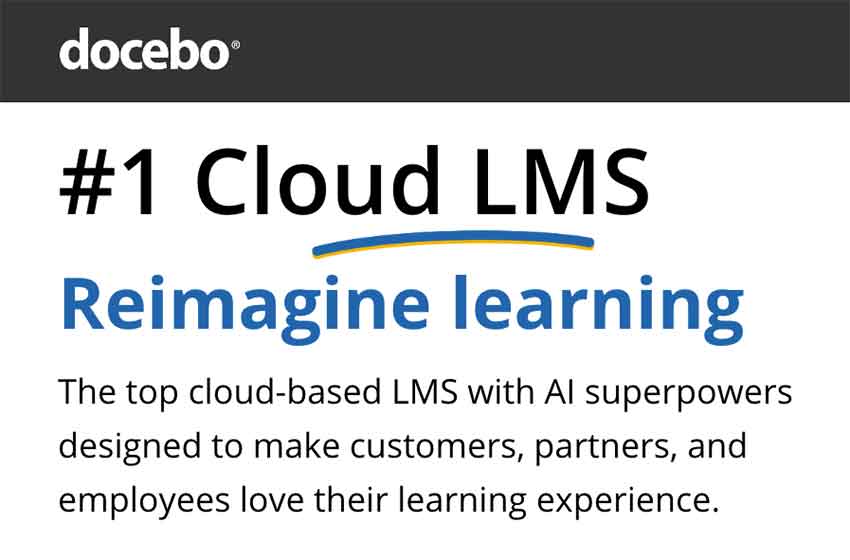 This learning management system (LMS) got its name from Latin, as its name is translated into English as: "I will teach." Speaking of teachers, they get to assign extra informal and formal training sessions to students who need upgrading in certain areas.
Docebo is easy to navigate and it arrives with a wide range of integrations for third parties. Furthermore, users are able to centralize, organize, and manage online courses and easily track their certification process. As far as pricing is concerned, you need a quote from the developers to get a price plan.
2. Adobe Captivate
A popular platform featuring gamification elements is Adobe Captivate. This comprehensive platform features highly useful automation tools, as well as 24/7 support, the standard for the industry. Although Captivate was released in 2019, Adobe had been experimenting with precursors of eLearning platforms since the early 2000s.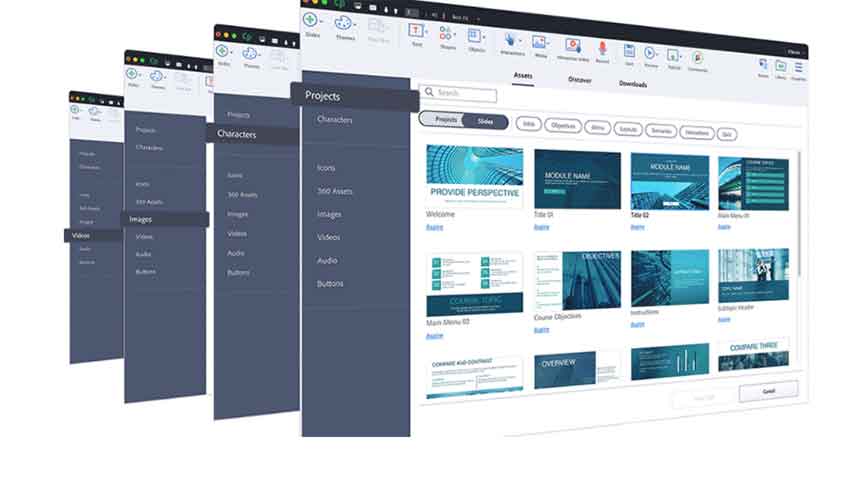 Adobe Captivate is actually an authoring tool used in educational learning and screencasting. In addition, this LMS by Adobe can be used for branch scenarios, software simulations, and software demonstrations, all in Shockwave Flash and HTML5 format. Users find converting Microsoft PowerPoint presentations to the abovementioned formats particularly convenient.
The software comes with a commercial license, so using Adobe Captivate Prime will cost you at least 4 dollars per month (for a single user). This is a small price to pay considering the fact that you can have a course up and running in less than an hour and a half. Such speed is possible thanks to the ability to auto-assign reports and learning plans.
3. Google Classroom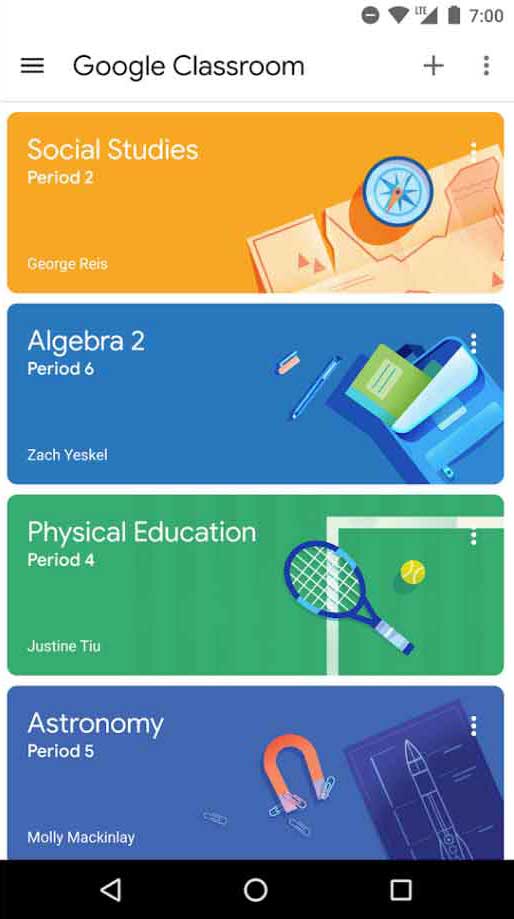 One of the oldest free web services is Google Classroom. Launched back in 2014, the service was developed by Google with the main intention of easier file and assignments sharing between teachers and students, as the software's name suggests.
This LMS features a completely free tier, as well as offering discounts for purchasing the pro tier. Part of the educational G Suite, Google Classroom comes with a variety of different tools that make it ideal for a school environment. From creating content to grading it, later on, this eLearning platform has it all.
Google Classroom comes with integrated Slides, Gmail, Calendar, Sheets, Docs, etc., which opens up several avenues of communication between teachers and students. Students are given a code to access lectures and they can access extra files in the Classroom.
On the other hand, teachers get an all-in-one eLearning platform that allows them to create, distribute, and mark assignments within one platform. This allows instructors to monitor pupils' progress and keep track is someone is overdue with their work assignment.
4. iSpring Learn LMS
iSpring Learn, like all iSpring products, was designed to be robust, yet easy to use. This learning management system (LMS) can fully automate most of your education management processes: monitor deadlines, send invites to students, notify them of new assignments, and more. It is customizable and offers gamification features like points, badges, and leaderboards. Some students have even said that taking courses with iSpring Learn felt like watching Netflix.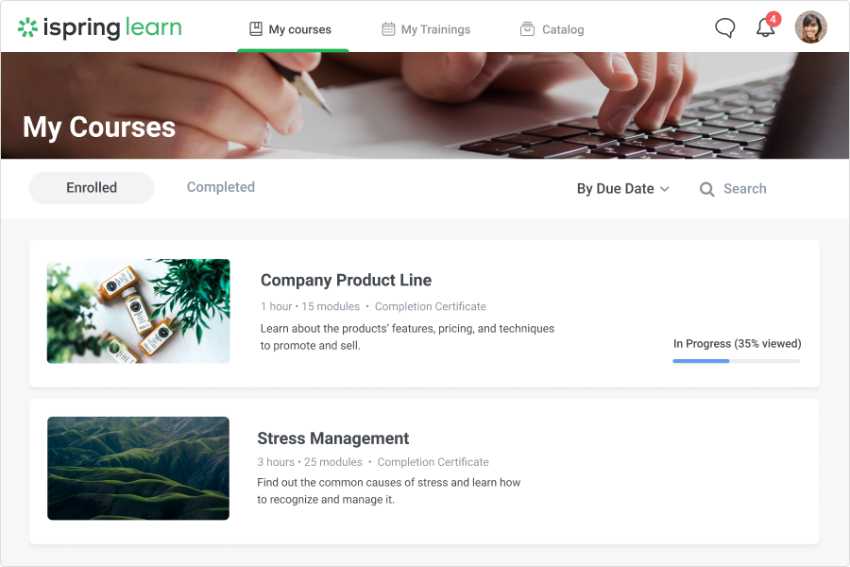 An advanced tracking engine generates student progress reports that show how many courses (or modules of a course) a student has completed, whether they passed or failed quizzes, what mistakes they made, and more. With this LMS, you can view analytical reports on a particular learner and an entire group, faculty, and university (or company), thus getting a more complete picture of your online learning.
Besides, a huge advantage of iSpring Learn is that it comes bundled with iSpring Suite. It's an authoring tool with which you can create interactive online courses from scratch, convert existing PPT materials into online content, build engaging quizzes and tests, design interactive role-plays, record and edit video lectures, and more.
Pricing plans start from $2,82 per user/month. iSpring offers special discounts for educational organizations.
iSpring Suite
iSpring's flagship tool iSpring Suite combines seven solutions in a single software. You can create online courses, quizzes, screencasts, video lectures, role-plays, ebooks, and interactions. And iSpring Suite works as a PowerPoint add-in, so if you know how to work in PowerPoint, you already know how to work with iSpring Suite.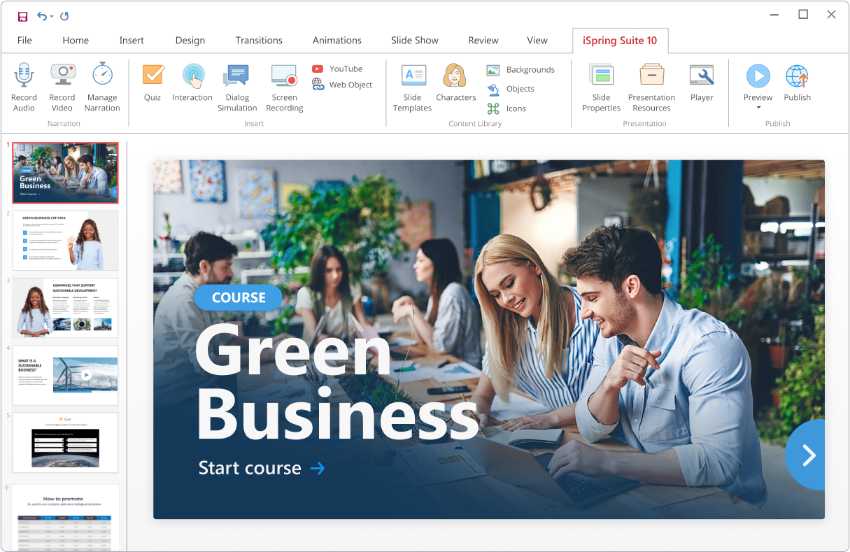 As easy and rapid as creating online learning content with iSpring Suite is, you can speed it up even more using Content Library and iSpring Space. Content Library contains over 89,000 eLearning assets: professional-looking templates tailored to educational purposes; characters of different ages, ethnicities, and professions; locations; and objects to enhance your courses.
iSpring Space is a cloud platform that is included in iSpring Suite's advanced plan. With this tool, you can collaborate with your colleagues and students right in a browser, create simple courses and quizzes, leave feedback, and store your educational materials.
All content created with iSpring Suite can be uploaded to any LMS and will play perfectly on any device. Educational organizations can get iSpring Suite with a discount of up to 40%.
5. Elucidat
The next eLearning platform on our list is ideal for creating a myriad of different courses. Whether it's the sheer number of themes you can choose from or catering for all screen sizes, Elucidat is a versatile eLearning platform. The developers' goal was to create a web-based learning platform that would enable the easy production of business training materials.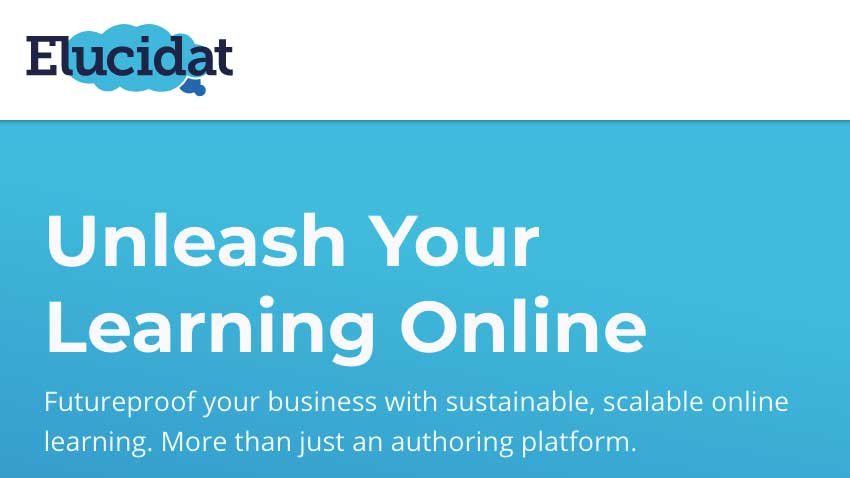 In order to facilitate the learning process, Elucidat features a page template editor, allowing you to select and tweak a theme to your business preferences. For savvy users, creating a theme using CSS or HTML is always an option, but Elucidat offers you to insert text, videos, and images using the drag-and-drop principle, familiar to everyone.
Essentially, you needn't use lines of complying coding to end up with a visually appealing styling of your eLearning course. An additional perk of Elucidat is that you can manage hundreds of courses simultaneously, so it's definitely worthwhile to ask their sales department for a free quote.
6. Lectora Inspire
One of the oldest original authoring tools out there is Lectora Inspire. Like most of the eLearning platforms we list, Lectora Inspire functions across devices but is more complicated because you need to write basic scripts.

This web-based system comes with a review feature, making it an ideal tool for creating selling courses intended for customers. Of course, it can be used for employee training courses as well, since it boasts "how-to" resources.
Lectora Inspire's biggest drawback would have to be its price. This commercial software is available for 2,600 dollars annually, a 10-courses limit included! The high price is somewhat justified because you get unlimited scripting, stock templates, free access to high-end graphics libraries, video editing, a screen template library, etc.
7. Blackboard Learn
If you are looking for an LMS for education, then Blackboard Learn is definitely worth considering. Its primary users include schools, universities, as well as governments. The cloud-based data storage system ensures is responsive, mobile-friendly, and suitable for editing content from third-party providers.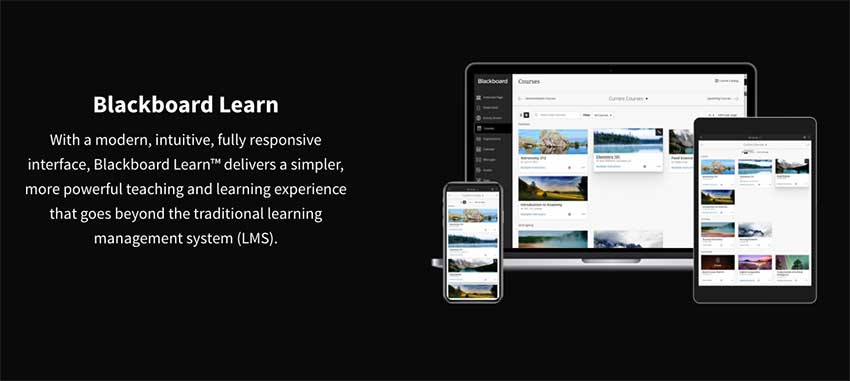 These are the main reasons why students and teachers alike adore using it. The easy-to-use interface has made it popular among universities in the United States where it's still ranked in the top 3 eLearning platforms.
Apart from teacher-student interaction and vice versa, Blackboard Learn is used for communication between respective departments and in staff training. Due to its popularity in the academic world, more and more businesses and governments are giving it a try.
However, the pricing is all but clear, so prospective users need to ask for a quote if they want to switch to Blackboard Learn. In addition, concerns have been raised regarding its GDPR compliance for use at European universities.
8. Articulate 360
If you're for a highly-responsive eLearning authoring tool, then Articulate 360 is the right way to go. This tool is mostly intended for pros, as it comes with an elaborate theme editor. Another advantage of Articulate 360, including extra apps, Rise 360 and Storyline 360, is the mobile-friendliness of every course you create.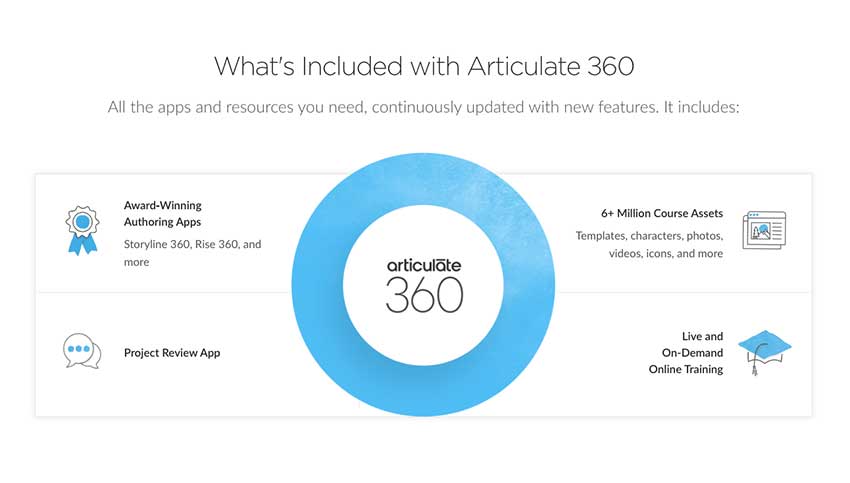 The ability to create visually interactive courses for every device imaginable (mobile ones are a priority), sets Articulate 360 apart from its competitors. There is no need for additional tweaking, as courses are instantly ready to be used on mobile devices.
For less experienced users, there is a library of themes to choose from, custom-tailored for specific users' preferences and needs. All the edits you make regarding both text and images are stored inside a cloud, so the loss of data is virtually (pun intended) impossible.
Articulate 360 comes with a project review app through which you get help from educational experts in several languages, such as Chinese or Spanish. However, all these amenities build up the tool's final price, as 1,600 is a lot to pay every year. Luckily, you have the option to start a free trial of this award-winning authoring app.
9. LinkedIn Learning
A subsidiary of LinkedIn, LinkedIn Learning is a website offering various video courses conducted by experts from all walks of life. The franchise was started back in 1995 as Lynda, only to be acquired by LinkedIn and later Microsoft in 2017.

This educational platform utilizes the format of video lessons to create a base of more 16,000 courses that are offered to LinkedIn users as a premium service.
Due to its longevity and the fact that such a renowned brand name as Microsoft stands behind it, LinkedIn Learning is highly valued in the B2B community. Its unique value is certification upon course completion. Furthermore, the course offers are personalized because of the data LinkedIn has on its user base.
The main audience for LinkedIn Learning are students who wish to gain extra knowledge on a particular subject. However, prospective learners need to conduct some research before enrolling because course descriptions aren't necessarily clear enough.
There are monthly and annual subscription plans, the latter ranging around 300 dollars, making it fairly affordable in comparison to other eLearning platforms.
10. SHIFT eLearning
SHIFT is an easy eLearning option if you're looking for a web-based authoring tool. If features both HTML and draft functionality, meaning that you needn't possess any programming experience and still be able to produce a feature-packed e-courses.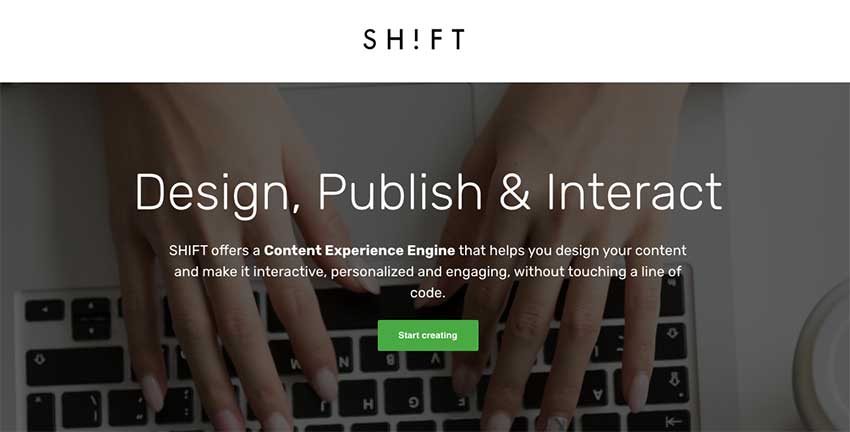 The many templates SHIFT offers utilize HTML5, as well as Adobe Flash, enabling one-push publishing. Once you hit the "publish" button, the eLearning platform you created becomes compatible with a wide range of devices indiscriminate of their screen size or the aspect ratio.
Like with other authoring tools on our list, the subscription rate can pose a problem: 99 dollars per user per month or 999 dollars annually isn't cheap. However, you do get a 30-day free trial, somewhat assuaging the high pricing of enterprise packages.
11. Udemy
In terms of online marketplaces for educational courses, Udemy is among the most popular websites. Its user base in paralleled: some 50,000 instructors and nearly 40 million students. There is hardly a subject matter that isn't on Udemy, as its creators enable easy course creation for anyone with enough expertise in a particular area of knowledge.

Apart from the online experience, learners receive materials in the form of a PowerPoint presentation, a PDF document, a Word file, or an instructional video. The secret behind the sheer number of courses is that there is no set-up fee for instructors but the platform does take a huge chunk of their revenue. Furthermore, instructors have no control over course pricing and discounting.
Perhaps the biggest downside of Udemy is the lack of communication between students and the instructor. This results in inconsistent quality of some courses, regardless of how well-rated they are and it spurs competition between course creators, which is not always a bad thing.
As you might have noticed from the 10 examples of the best eLearning platforms, the quality of e-courses is exceptionally high. The forte of each course is soon aped by others, increasing their respective profiles and improving the end user's experience.
In terms of downsides to eLearning platforms, the cost of subscription takes the first place. Basically, if you want to go pro, then you need to splash some cash. Luckily, solopreneurs can find free authoring tools that will help them get started if nothing else.
In the time of the coronavirus when schools, universities, businesses, and governments alike are turning to eLearning platforms more than ever, choosing the right eLearning platform for your enterprise is essential.
Whether you're an entrepreneur looking to hold an online training session or a university executive in search of the ideal eLearning platform for your students, you require a custom eLearning platform.
Follow us: