You've set up a blog and worked hard on it, now it's time to get more traffic and enjoy the thousands of comments and social shares.

Not so fast!

Getting traffic to your blog is much harder than you think. In reality, even copywriting masterpieces often remain ignored. If you want people to read your blog, you'll have to work for it.

We're offering 5 tips to help you make consistent improvements and start increasing blog traffic.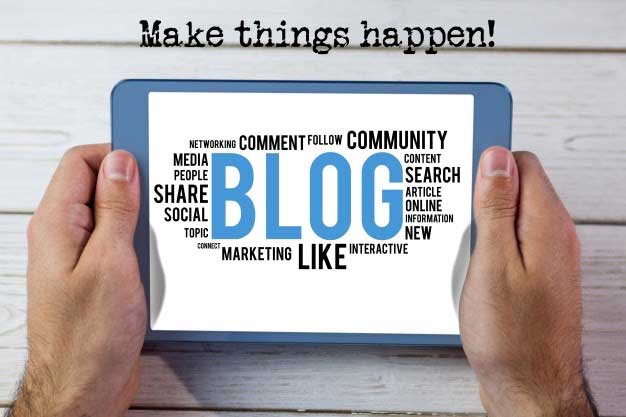 1. Create Content Strategically
The first step to improving your blog is very simple: try to create better content. And this doesn't just mean creating high-quality content; your content needs to meet your audience's specific needs.

Nowadays, content falls into two broad categories: educational & useful and funny & entertaining. Figuring which type your audience would prefer is a great start.

If you need topic ideas, visit Quora and see what kind of questions related to your industry people are asking. You can also use Buzzsumo to check out what other bloggers have written, or you can even rely on blog name generators. Finally, tools like competitors.app will help you to easily monitor all your competitors' marketing moves, including their blog, and stay on top of your blogging game!

When it comes to the style of your content, people tend to like and share listicles, articles with catchy headlined, shocking statistics, and beautiful visuals (infographics and videos).

2. Find Out Where Your Audience Hangs Out
Even though establishing your presence across all social platforms might sound nice, you will soon find it impossible to pull off. You need to be strategic about where you will be spending most of your time.

If you want to drive traffic to your blog, you'll need to go to where your audience is present. In addition, understanding your audience is key for building referral links from relevant sites.

Take some time to identify the sites and forums your audience goes to and get active. Start engaging in conversations and post blog comments or links when appropriate. Be careful not to appear spammy, though. People should perceive you as a valuable member of the community who has something worthwhile to share.

Once you've figured out your key channels, focus your efforts on them.

This will help you limit the number of social sharing buttons. Even though many of us might assume that offering more choices is better, research has shown that too many options can overwhelm people and cause stress.

You can also ask users to help you increase blog traffic. Studies have shown that users who asked followers to retweet their Twitter posts received around 73 retweets per tweet, whereas those who didn't ask got only about 2 retweets. So, if you want people to share your stuff, all you need to do is ask!

3. Play the SEO Game To Get More Blog Traffic
If you really want to drive substantial traffic to your blog, make SEO a part of your blogging strategy.

But where do you start? Keywords. Make sure to use relevant keywords throughout your blog content but avoid keyword stuffing. Don't forget that you're writing first for your audience and then for the search engine bots.

If you want to stand a solid chance of competing in the crowded online world, go for long-tail keywords. Long-tail keywords are phrases containing 3+ words. They are cheaper and easier to target because there is less competition for them.

To brainstorm long-tail keywords, start typing in a phrase in Google and see what the auto-complete suggestions come up. Choose the phrases that you like best, then put a few of them into Google and scratch down some of the related search suggestions found towards the bottom of the page). Take all your long-tail keywords and put them into the Google Keyword Planner to see which ones attract the most traffic and select those that have low competition and high search volume.

That's it! Now try to create your content around these targeted keywords.

4. Optimize Mobile and Speed To Get More Blog Traffic
If your blog takes ages to load, people will leave and go to your competitors. If you need to check your website speed, go to Google's Page Speed Insights tool. You'll get your speed score along with tips on how to speed up your site.

In addition, bear in mind that people spend around three hours per day on their mobile devices, which means that you will need to go mobile. If you think your blog isn't up to the standards, simply use a plugin that helps create a version that is optimized for mobile.

5. Be a Fair Player
If want to drive traffic to your blog, you will also need to build relationships with other bloggers in your field. In some cases, you will even need to partner up with them.

Be active in different communities and comment on others' blog posts. In addition, consider interviewing a major industry blogger or feature them in one of your posts. Chances are that the blogger you've mentioned (and tagged to let them know) will share your post, thus getting you more blog traffic.

Linking to other blogs is also good for SEO as it lets Google know that you are not a spammer. Finally, building good relations makes pitching guest posts much easier.

In Conclusion
Follow these 5 tips and you will see your blog traffic skyrocketing in no time! Remember, blogging requires hard work and patience. That's the only way to succeed.
To learn more about the topic, we recommend this article on how to promote your blog.

Follow us: