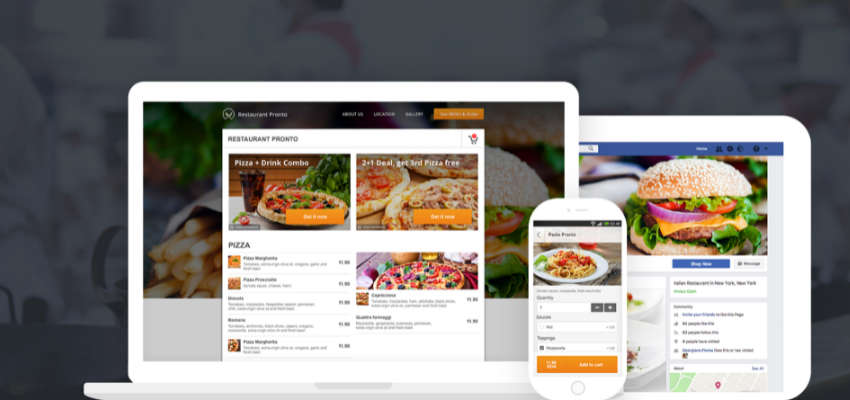 If you own a restaurant and don't have a food delivery app yet, what are you waiting for? Aside from making your work life easier for both you and your team, it also ensures you gain a lot more visibility and exposure to new customers, thus increasing your sales.
So, if you know you want to make this step, or you already made it and don't know where to start, we are here to help you build a marketing plan on your food delivery app.
1. If you haven't already, build your restaurant's website
Having a website is like a house and its foundation. Without it, nothing else can work properly. If you already have one, make sure to promote the app on it and make sure to include the restaurant menu, so it would be more convenient for potential customers. 
2. Don't forget about email marketing and subscribers
Customers who are subscribed to your email list should have their loyalty rewarded. It would make a great token of appreciation to grant them access to the delivery app before anyone else. They will be surely surprised and will download it immediately, and they could be a helpful way to get feedback for your app and work on constant improvements.
3. Promote your app on all social media outlets
Facebook, Twitter, Instagram – they all have amazing outreach and are great to use in promoting. When post your app, make sure to include a download link to it and a promotion for new users, like discounts or coupons.
4. Send notifications for promotions 
A notification has the power to catch anyone's eye, so when a potential customer thinks about having to cook dinner, a notification from your app with a special deal on meals comes just at the right time. Include all types of sales or promotions on your app, so your users will know that it is to their advantage to download it.
5. Keep an eye out for the loyal customers
Loyalty should be rewarded in every situation, but especially when it comes to customers loyal to your brand and services. Periodically, you should include special promotions for the loyal app users or put in place a loyalty point system that would reward them.
Remember, the online space and social media will always work to your advantage if you learn how to use it. Do not fear upgrading your system, because as the world and technology evolves, so are customer habits and so should your business and marketing strategy.
Follow us: