A whooping 78% of buyers are more likely to make a purchase after checking the social media of the brands or companies. With plenty of social media platforms, they can be gold mines for businesses of all scales to promote their products or services.
However, marketers and solo entrepreneurs can spend countless hours fiddling with a bunch of social media if they don't know any social media management tools as shortcuts.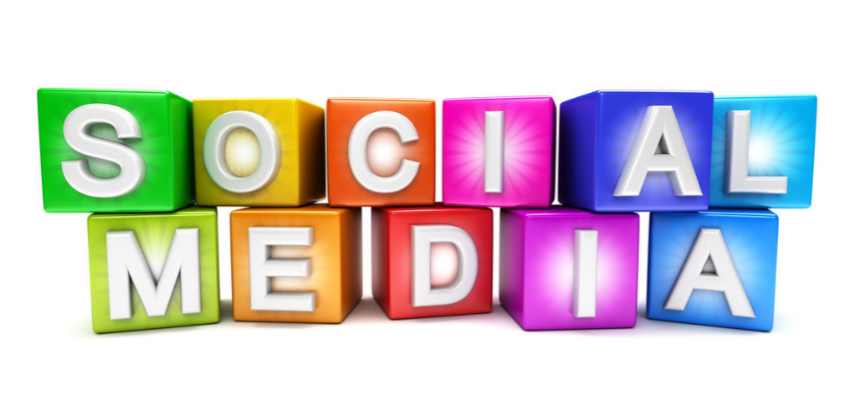 Imagine if you're doing a video marketing campaign that requires you to post video content on Facebook, YouTube, TikTok, Instagram, and Twitter. The most traditional way to do it is by having many tabs open for each social media site so that you can upload the same video content on them. What a load of work!
An effective way to cut processes (and hours) in cyberspace is by utilizing social media management tools. Thanks to the world that gets more digitized, social media management tools can help you with various tasks, so you can still do other necessities and have a good rest at the end of your day.
Social media management tools have many benefits for businesses and there are plenty of them useful to assist certain tasks. Before giving you the nine best social media tools, let's delve into the basics first, shall we?
What are Social Media Management Tools?
Social media management tools refer to tools, sites, or software designed to assist the processes of leveraging a bunch of social media. Over the past few years, many businesses of all sizes have been utilizing one or more social media tools to ease their work.
Each social media has its own features and advantages. Some are good for sharing and managing content, while some others are best for creating plans, analyzing data, building teamwork, and even finding potential customers to boost sales.
If you can handle marketing tasks effectively, you'll be more productive during work hours. You can solve problems as soon as possible and don't rule out the possibility of seeing business growth quicker.
More importantly, if you have new hires handling the company's social media accounts, you can save time getting them onboarded by providing training videos about social media management. That way, you can focus more on creating and planning for new campaigns instead of scheduling/replying to every comment on your social channels.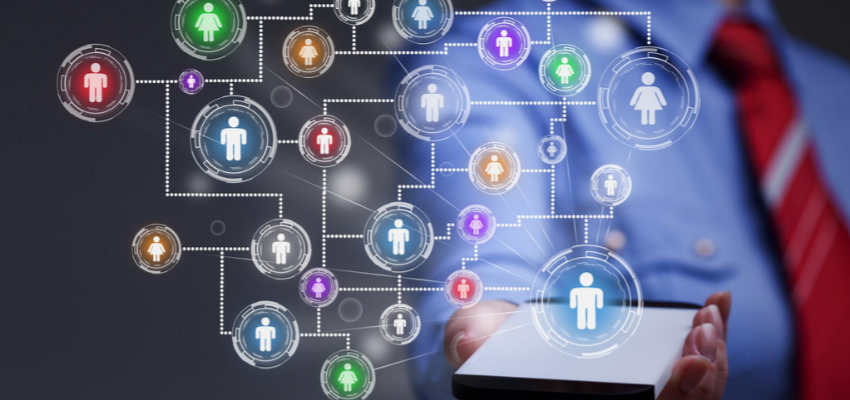 Why You Should Utilize Social Media Management Tools
As stated previously, social media management tools help you handle tasks efficiently. But, what do they actually do to you, your team, and your business?
There are at least four benefits that you can get by utilizing social media management tools, which are:
Save time
The major benefit of adjusting social media management tools is that you can save much time during your work hours. They help you handle repetitive tasks so you can maintain productivity to accomplish more duties.
Organize works
Social media management tools are also able to organize your tasks. Most of them have organizers of their styles, such as content calendars. So, your actions for the rest of the weeks or months are well-ordered.
Track performance
If you run a business, tracking overall performance is always important. Some social media management tools assist you to collect, analyze, and visualize the data to provide you useful insights of your marketing performance.
Plan and Inspire
Some tools have features to collect ideas and save images, pictures, or videos as inspirations for your later projects. You can also plan when and how to execute them.
The Best Social Media Management Tools for Business
Every tool has its specialties to resolve certain tasks. For example, tools to manage social media content, analyze data from social media, engage audiences, and create plans.
Some tools even have many features to help handle various tasks. These types of tools are often referred to as all-in-one tools.
Check out some recommendations on the best social media management tools for businesses below.
All-in-one social media management tools:
1. Hootsuite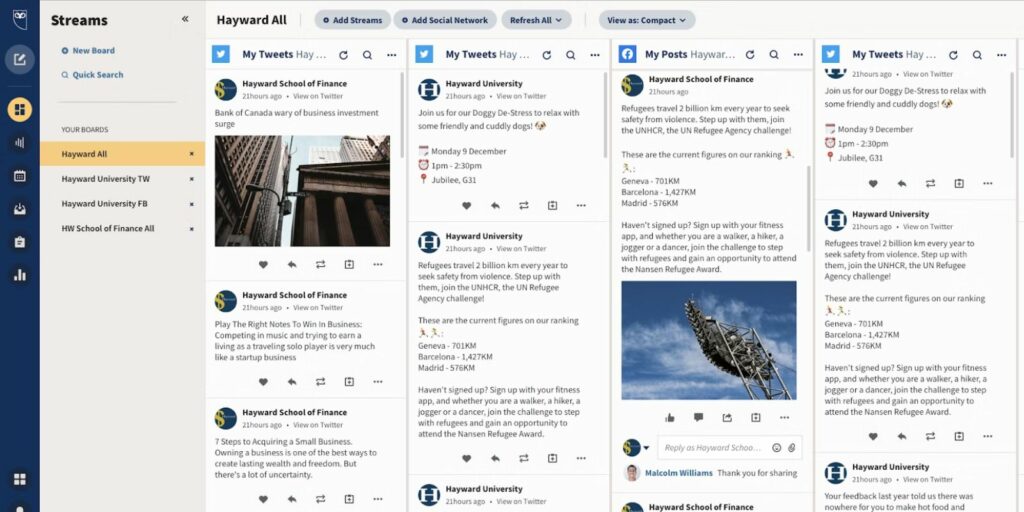 Image via Hootsuite
Released in 2008, Hootsuite is a social media management tool for desktops to manage and organize several social media sites through a dashboard. This way, users don't have to open many tabs to login into many platforms.
For example, users can include their Instagram, Twitter, LinkedIn, YouTube, Pinterest, and other sites on the Hootsuite dashboard. They can create content and publish it on more than one platform at the same time. They can also schedule content to be published later.
Hootsuite is suitable for anyone, ranging from freelancers, solo entrepreneurs, to large enterprises. Even with its free option, Hootsuite offers many features that help users manage content on their social media without taking too much time.
Users can also reach potential customers and grow engagement by posting content at the best times automatically with its premium feature.
Pricing
Hootsuite offers a free plan where users can manage up to two social media accounts. There are also paid plans for monthly and yearly subscriptions, as follows:
Professional: starts from $49 per month (1 user, 10 social accounts)
Team: starts from $129 per month (3 users, 20 social accounts)
Business: starts from $739 per month (5 users, 35 social accounts)
Enterprise: upon request, (unlimited users, 50+ social accounts)
2. Sprout Social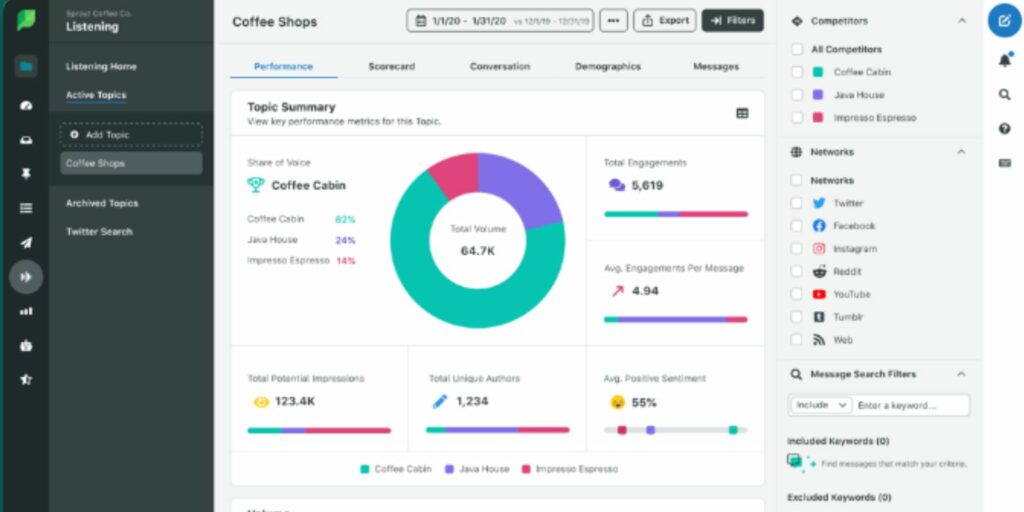 Image via Sprout Social
Sprout Social is another option for an all-in-one social media management tool. It emphasizes four features, which are monitoring, engagement, measurement, and growth. The functions of Sprout Social are quite similar to Hootsuite, but the two have different interfaces.
The key benefits of using Sprout Social are that it allows users to publish and schedule content on social media platforms at the same time. Users can also monitor brand and competitor performance in cyberspace. Moreover, it provides Discovery tools that allow users to connect with potential customers.
Pricing
Sprout Social is applicable to freelancers, small businesses, and large enterprises. However, it doesn't offer a free plan, so users have to pay a monthly subscription for three different levels: standard, professional, and advanced. All subscriptions are billed annually.
Standard: starts from $89 for one user per month
Professional: starts from $149 for one user per month
Advanced: starts from $249 for one user per month
3. HubSpot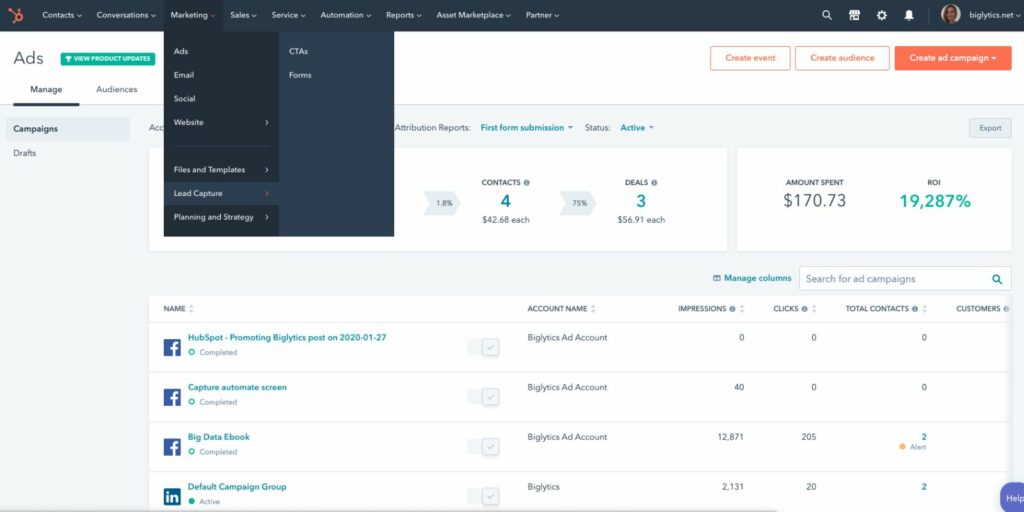 Image via HubSpot
Many businesses have shown satisfaction after adjusting to HubSpot as part of their marketing effort. It enables users to track, monitor, and create content for the sake of business growth. HubSpot helps improve the overall performance of your marketing strategy.
HubSpot has several capabilities to simplify your work, such as tracking and measuring marketing activities on social media. These include creating content and email marketing. It also helps users to establish landing pages, recommend call-to-action, and keywords to optimize the SEO performance.
Pricing
HubSpot provides free subscriptions for users, but some features may not be applicable. The subscriptions come in four types: starter, professional, and enterprise.
Starter: starts from $45 per month
Professional: starts from $800 per month (billed annually)
Enterprise: starts from $3,200 per month (billed annually)
Social media management tools:
1. Later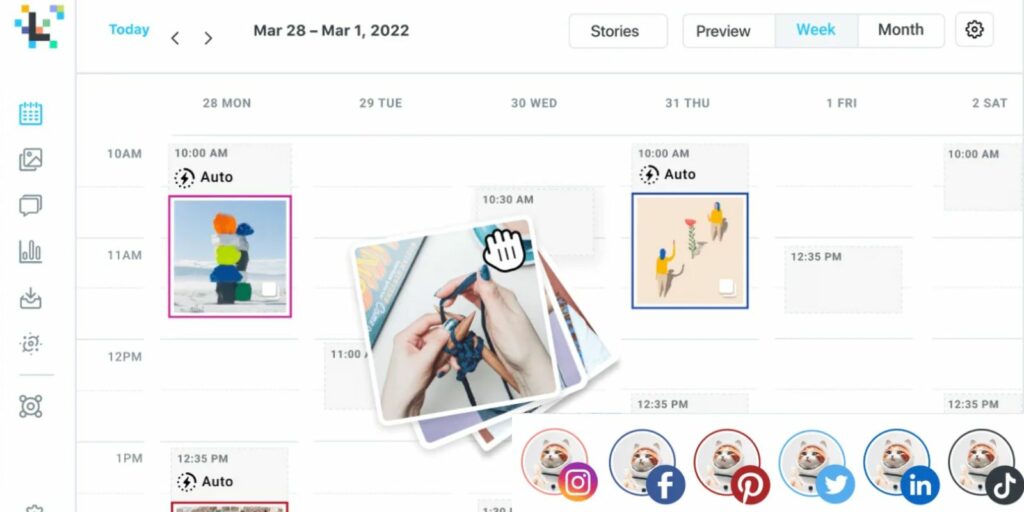 Image via Later
Later provides a drag-and-drop interface on their calendar feature to facilitate users to make planning and schedule. Users can schedule posts to a certain time, including for the weeks or months ahead with its feature.They can choose multiple social media sites, such as Facebook, Instagram, and Twitter to share their content.
Moreover, Later allows users to import content from Google Drive, mobile devices, Dropbox, and other sources. If users have their content posted, Later also allows them to track engagement and monitor performance metrics.
Some users leave good reviews about Later. They are satisfied with how easy Later is to operate with its simple interface. They are also able to save captions and hashtags, and give recommendations according to your post.
Pricing
Later provides a free plan and subscription. There are three paid plans for monthly and yearly subscriptions, such as:
Starter: starts from $15 per month (1 User and 30 posts per month per social media)
Growth: starts from $25 per month (3 users and 150 posts per month per social media)
Advanced: starts from $40 per month (6 users and unlimited posts across all social media)
2. Sendible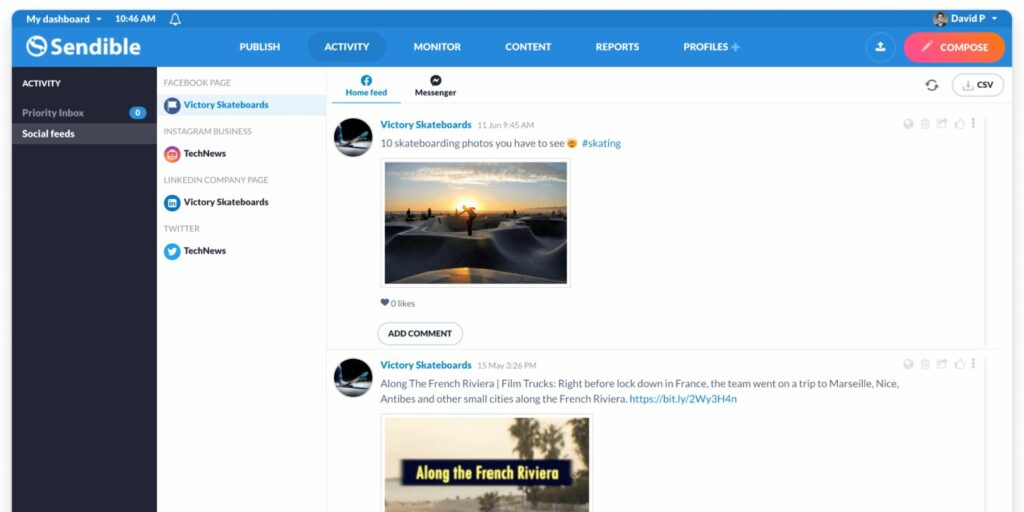 Image via Sendible
Sendible has 86 features in total to facilitate its users in optimizing their marketing strategy. Just like any other tool, Sendible allows users to schedule posts for multiple social media sites in bulk. They can manage that through a single dashboard with a simple and easy-to-understand interface.
Users can check their social media performance and get analytics reports to see content popularity. Sendible gets good reviews from its users; one of its winning points is excellent service that always offers solutions whenever technical problems happen.
Pricing
Sendible offers a free trial for 14 days before purchasing, but the subscription packages come in four types, which are:
Creator: stars from $29 per month.
Traction: starts from $89 per month.
Scale: starts from $199 per month.
Expansion: starts from $399 per month.
Planning management tools:
1. Buffer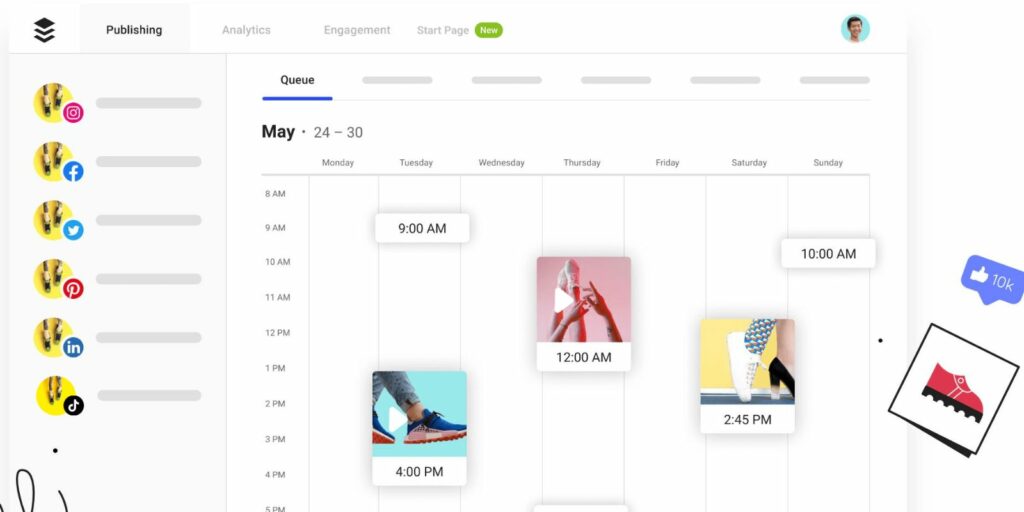 Image via Buffer
Buffer is also one of the social media management tools that receives good impressions from users. Not only that it has many helpful features, but Buffer is also relatively inexpensive for freelancers and small businesses.
The scheduling feature of Buffer wins so many hearts because it has an easy-to-use interface and is reliable to use. Buffer also allows users to share the same posts across multiple platforms effortlessly. Moreover, there is a mobile version for Android and iOS that runs just as smoothly as the web version.
Pricing:
Buffer offers a free plan but is limited to several main features. However, paid subscriptions vary in for types, which are:
Pro plan: starts from $15 per month
Small business plan: starts from $99 per month
Medium business plan: starts from $199 per month
Large business plan: starts from $399 per month
2. CoSchedule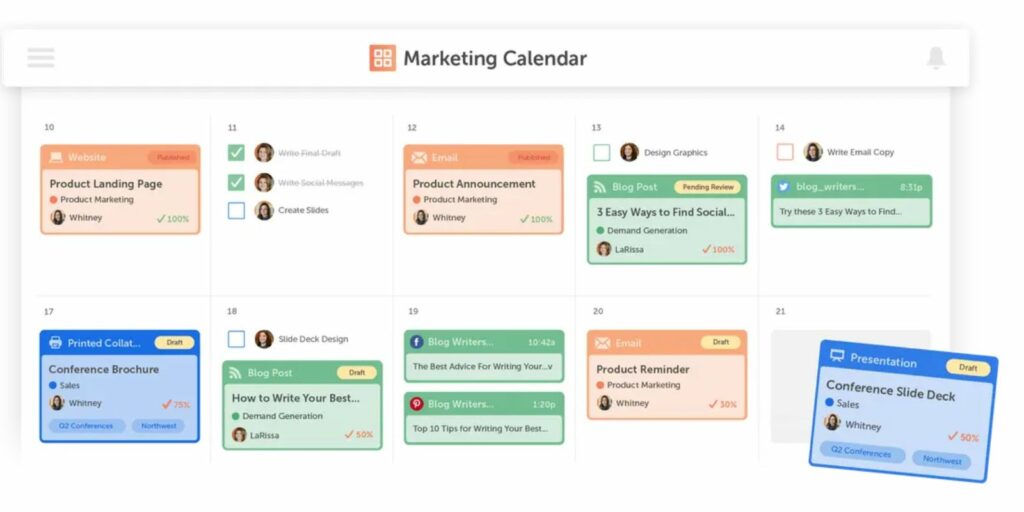 Image via CoSchedule
Just like its name, CoSchedule is best for planning and scheduling. It acts as a blueprint for your projects, such as creating content, email, events, and more. Users can create various projects in one place and schedule them accordingly as they wish.
CoSchedule also lets users check content performance on social media and monitor team progress to keep heading to their goals. It applies a drag-and-drop interface that makes it convenient for users. Moreover, users can create custom statuses, collaborate on projects, and assign tasks easily.
Pricing:
CoSchedule offers a free plan with limited access to several features. Monthly subscriptions start from $29 per month. Freelancers, small businesses, and big companies are suitable to use CoSchedule.
3. MeetEdgar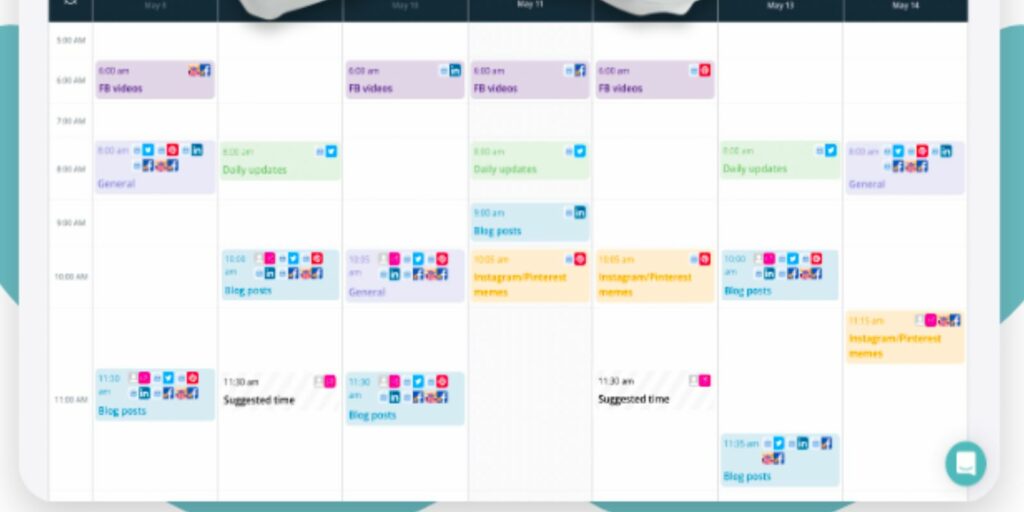 Image via MeetEdgar
Another social media management tool that receives a good review is MeetEdgar. It's especially famous for having a good price that's not burdensome for small businesses and early-stage startups.
MeetEdgar has a simple and pleasing interface that is easy to understand for new users. The features facilitate users to generate social content and allow scheduling unlimited posts on many social media platforms.
Pricing:
There are two types of plan for monthly and annual subscriptions. Eddie Annual Plan that can manage five social accounts and unlimited scheduled posts; and Edgar Annual Plan that can manage 25 social accounts and unlimited scheduled posts.
Eddie Annual Plan: starts from $29.99 monthly and $24.91 per month for a yearly subscription.
Edgar Annual Plan: starts from $49.99 monthly and $41.58 per month for a yearly subscription.
Takeaway
In general, social media management tools facilitate marketers or solo entrepreneurs to handle their work efficiently, especially for marketing purposes. Using one or more tools will help you avoid repetitive tasks that require a lot of time, so you can maintain or even improve your productivity.
When your productivity escalates, you'll have more jobs completed within the deadlines and be capable of achieving more goals. If everything goes smoothly as you planned, you'll see growth in your business as soon as possible.
Above social media management tools have received good reviews from users in various fields and business scales. You can choose one or more that are suitable for your jobs and fit your budget allocation. It's never a waste to invest in something that will effectively help you do your work.
About the author:
Andre Oentoro is the founder of Breadnbeyond, an award-winning explainer video production company. He helps businesses increase conversion rates, close more sales, and get positive ROI from explainer videos (in that order). 
Twitter: @breadnbeyond
LinkedIn: Andre Oentoro
Follow us: