Could AI become part of e-commerce?
IT ALREADY IS!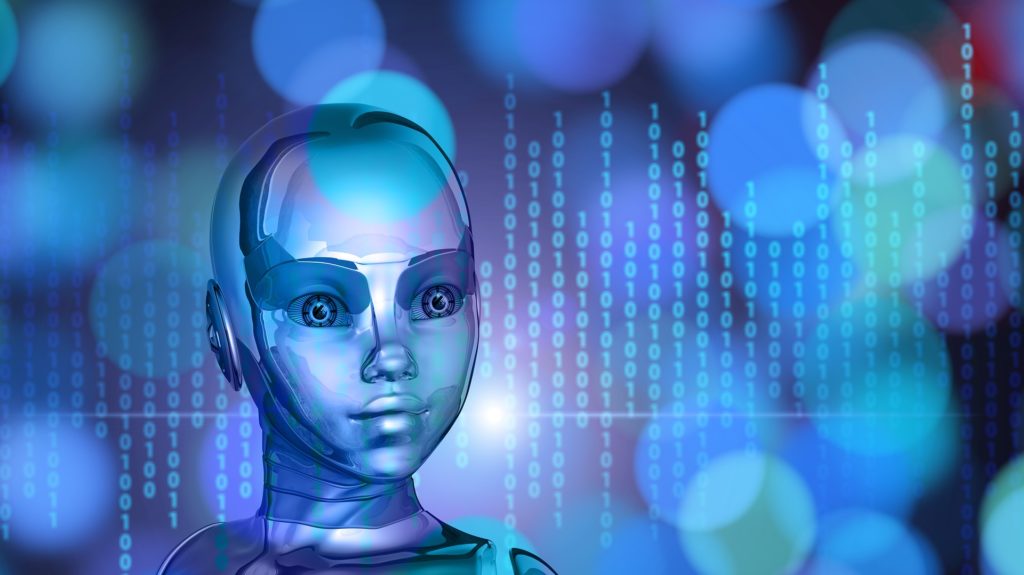 Some people are afraid of AI taking their jobs. However, it seems like the machines won't be able to take over the world in the nearest future but are nevertheless useful for businesses of any kind. Artificial intelligence simplifies many cumbersome and time-consuming processes, improving the overall productivity and increasing profits.
Retail e-commerce sales are expected to exceed $700 billion by 2022. This industry quickly develops and adopts new technologies. Thus, there's no surprise that retailing accounts for 20% of all AI investments. AI-powered solutions can significantly improve many processes, from marketing to logistics, and to product development. AI allows e-commerce companies to create a personalized user experience, to introduce new search options, and to get actionable insights into data. There are several common applications of AI in the e-commerce industry, so let's consider these trends in more detail.
Main AI E-Commerce Trends
AI Chatbots on E-commerce Websites
Despite the popularity of e-commerce stores, traditional brick-and-mortar stores still have a certain advantage, which is human assistants. Customers are looking for a seamless experience and they want all of their questions to be answered. Artificial intelligence makes chatbots much more realistic and smarter. They can provide human-like responses and maintain a natural conversation.
Better insights for marketing with AI
AI can analyze your sales, making predictions with high accuracy and helping you balance demand and supply. AI also enables precise fact-based segmentation of your target audience. While marketers can only take into account such parameters as age and gender, artificial intelligence can also analyze massive amounts of data on shopping behavior and product preferences. Another application of artificial intelligence in marketing is the analysis of reviews. Machine learning enables AI to not only react to reviews instantly but also to analyze the content of these reviews, obtaining valuable data.
AI Allows Personalization
Personalization is the main reason why Amazon became so successful. AI and machine learning take personalization to a new level. AI-based engines analyze the way customers interact with your website and mobile apps, making the right suggestions and increasing sales. For example, when your customers are searching for iPhone cases on the internet, they can receive push notifications about your sale for cases and quickly make a purchase, making the whole purchasing process much faster.
AI also allows to quickly translate your pages into any language, which is especially good for online shops that support international delivery. Of course, you still may want the most complex and important content to be translated by a human. In this case, you can find an experienced translator on College-Writers.com.
The Best AI Tools to Improve Your E-Commerce Business
There are many things you can improve about your web business, and artificial intelligence enables you to address a number of common issues, offering a whole range of solutions. Here are just a few examples sorted by categories.
1. Personalized Recommendations by AI
There are many e-commerce stores that offer the same product recommendations over and over again. The main problem is that relevant personalized recommendations require you to analyze lots of user data. AI solves this problem with tools like Choice.ai and Personali. Such programs collect and analyze data, creating not only personalized recommendations but a complete personalized experience. They can analyze your visitors' behavior and show content that will likely convert them into customers.
2. AI Helps With Influencer Intelligence
Paid marketing and SEO are no longer the only things you should care about, in fact, modern business is impossible without social sentiment analysis and influencer marketing. Given the effectiveness of influencer marketing, there's no surprise that developers create such AI solutions as SparkToro. These programs help you search for influencers that have the right audience, saving costs and improving ROI. You can see metrics, analyzing reach levels and engagement while also tracking competitive or similar mentions.
3. AI Makes Possible Smart Advertising
The main advantage of smart advertisements is that they can help you boost conversions even if you have a limited budget. It's hard to advertise your products effectively if you rely solely on Google's or Facebook's functionality. You need precise targeting and content that has proven to be effective. Fortunately, AI makes it real with solutions like Sizmek, Refuel4, and AdGooroo. For instance, AdGooroo allows you to see current and historical data on any advertiser, analyzing performance statistics and choosing the most effective keywords. This tool gives actionable insights into your strongest competitors' strategies so you can use their experience to your advantage.
4. Voice Commands
The popularity of Alexa, Siri, and Google Assistant is a reason why people use voice commands more and more often. Users love voice command because we speak three times faster than type. Voice commands allow you to quickly search for products, to add them to your shopping cart, and to purchase them in just a few minutes. Thus, enabling your visitors to use voice commands on your website is a considerable advantage, and artificial intelligence can help you make it. Apps like Chloe AI and EasyAsk make interaction with e-commerce websites easier than ever, especially when using mobile devices.
5. Smart Search Plugins
The success of your e-commerce business to a large extent depends on the speed and simplicity of your visitors' experience. The simplest yet very effective solution that will help you improve their overall shopping experience is an autocomplete search. Such features allow users to quickly discover new categories of products, creating a seamless experience and increasing sales. There are AI-based solutions like Loop54 and Nextopia that allow you to add a smart search feature to your website with no need to hire developers who would build it from scratch.
Conclusion
Artificial intelligence isn't going to take your job any time soon. However, it is already smart and complex enough to help you address a number of problems, improving your e-commerce business. AI is capable of analyzing massive amounts of data, which would be impossible for a human. Thanks to AI-powered solutions, you can create a personalized experience for every customer, analyzing behavioral patterns and providing the best recommendations. AI also enables you to improve the effectiveness of your marketing efforts, analyzing competitors' strategies and reaching the right audience. The benefits of AI for e-commerce are hard to overestimate so we recommend that you embrace this technology and its potential, entering the future of online retailing.
About the Author:
Ester Brierley is a QA Engineer in a software outsourcing company, but thinking about her own entrepreneurial journey. Also, she knows the secret for balancing freelancing as a virtual assistant and content creator for College-Writers and her full-time job. You can find Ester on Twitter.
Follow us: